On May 28th, Asia's largest and most professional additive and digital manufacturing technology exhibition- TCT Asia 2021 ended successfully at the Shanghai National Exhibition and Convention Center.
Flashforge exhibited a variety of new FDM series and LCD series printers, and showed WaxJet and new solutions, which attracted the attention of many audiences inside and outside the industry.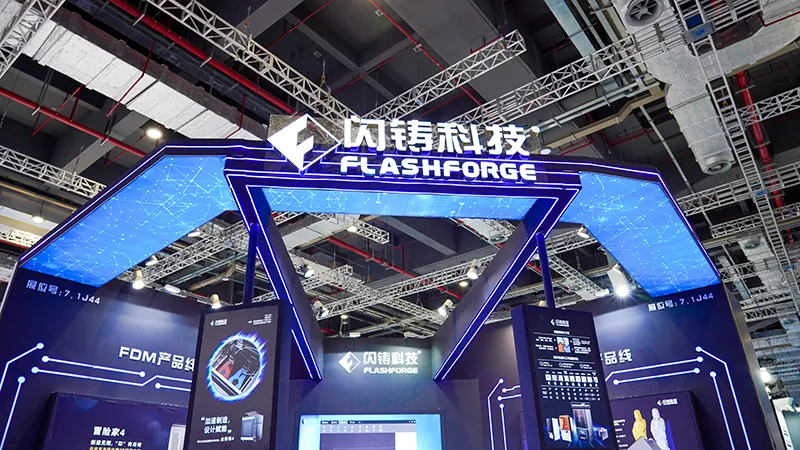 (The position number: 7.1H J44)
FDM series products are unveiled, making industrial applications more convenient
Flashforge's two new products, Adventurer 4 and Creator 4 debuted together.
01. Adventurer 4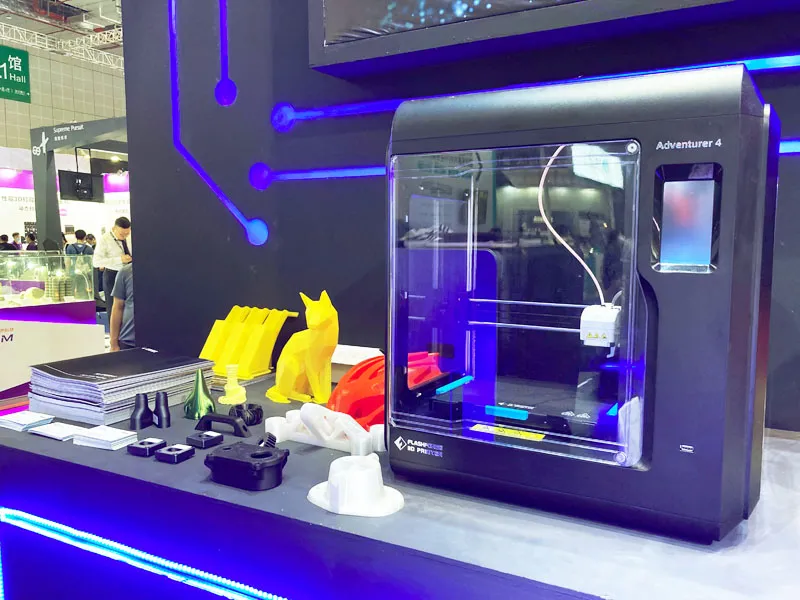 Compared with Adventurer 3, Adventurer 4 has a larger printing size: 220*200*250mm. The printing platform is upgraded to a 110℃ flexible and removable magnetic platform. It adopts a new platform technology to achieve real leveling-free design;
Adventurer 4 adopts a modular design, supports detachable nozzles of different specifications and meets more filament types. It includes HEPA air filtration, low-power standby, power-off resuming functions and so forth. The new slicer FlashPrint can easily monitor and manage multiple 3D printers to integrate interest, daily life and working efficiency with intelligent printing experience for family consumers, educators and office users.
02.Creator 4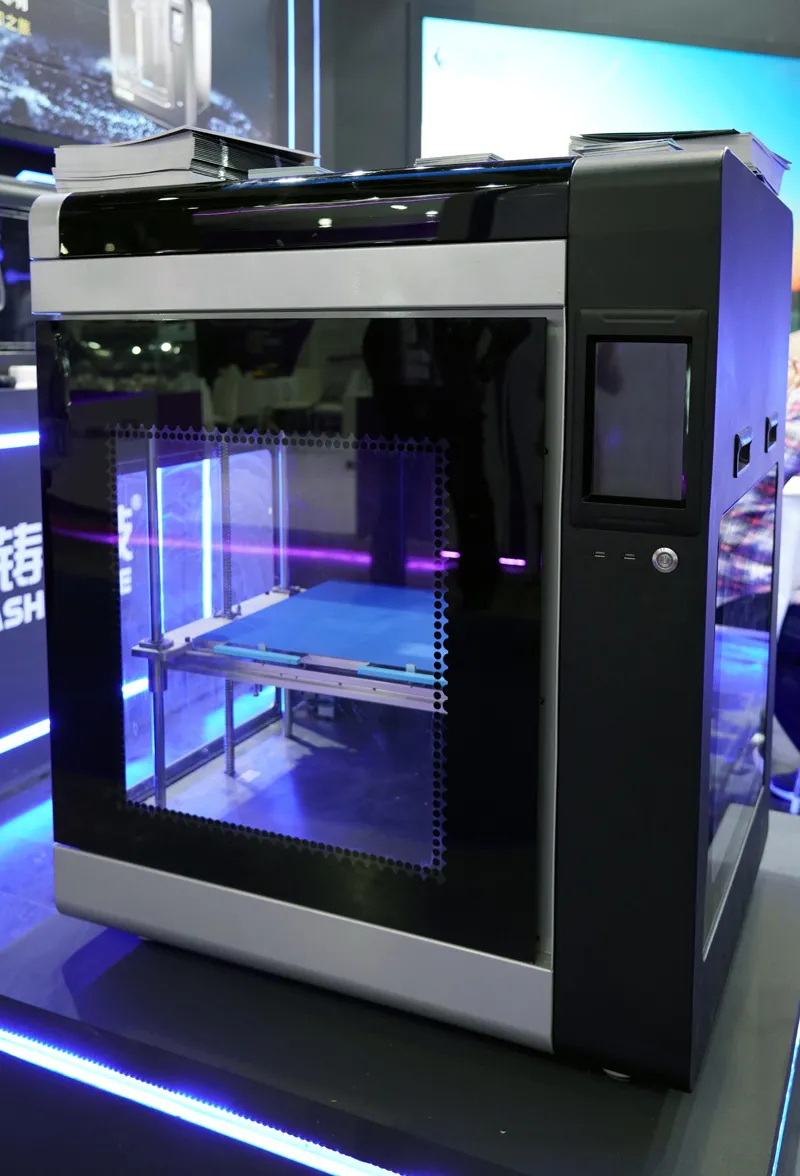 Creator 4 with independent dual nozzles has an industrial-grade printing configuration. It adopts an advanced temperature control management system, which can more accurately control the printing of engineering-grade filaments. It guarantees that the printed parts have excellent mechanical strength and precision, and can be used to different applications.
The greatest highlight is the design of 3 different modular printing nozzles for special printing applications. The 3 types of nozzles F, HT and HS can respectively support different materials with a large performance span such as flexible filaments, engineering filaments, and composite filaments. At the same time, it is equipped with an intelligent material management system, which can effectively ensure the in-cabin printing environment required by different materials.
New LCD printer series, excellent products for choosing
Flashforge exhibited the whole new LCD 3D printer series, Focus and Foto at this exhibition. The 4 new products received enthusiastic attention as soon as they were unveiled.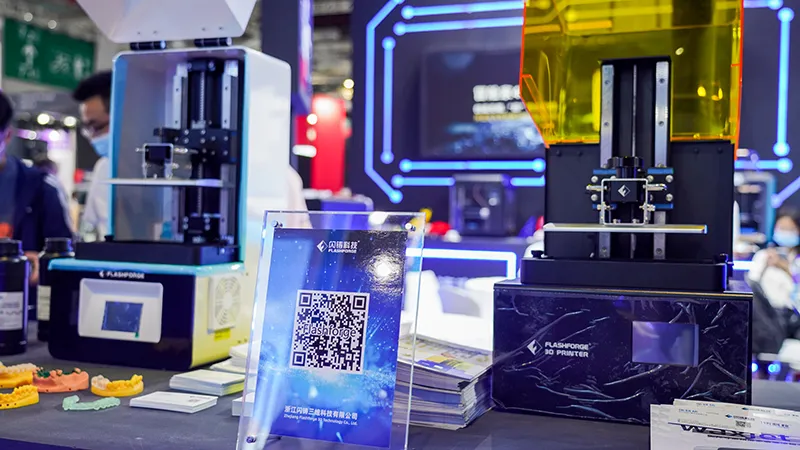 (Left: Focus 8.9, Right: Foto 8.9s)
01. Focus series: focus on dental applications
Rooted in the field of 3D printing dental applications for many years, Flashforge launched new dental equipment Focus 8.9 and Focus 13.3, as well as digital dental solutions this time.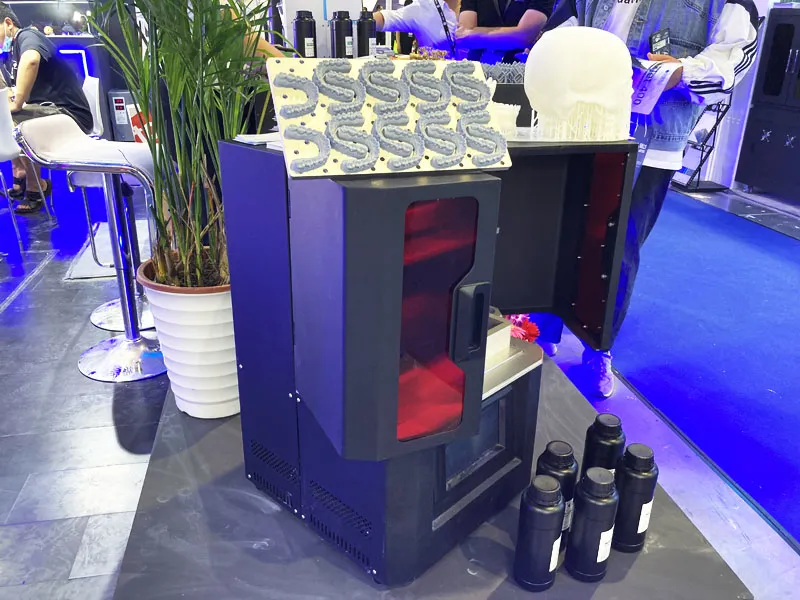 (Focus13.3)
In response to the multi-faceted requirements of dental application such as printing size, stability, and operation capability, the Focus series adopts the newest intelligent manufacturing technology. It equipped with the optical engine system and subpixel compensation developed by Flashforge, and the energy distribution difference is less than 10%. It has made a qualitative leap in printing size, precision and stability, and can be applied to various dental medical applications such as orthodontics and restoration. At the same time, it is equipped with a complete digital dental solution to provide a new experience for dental applications.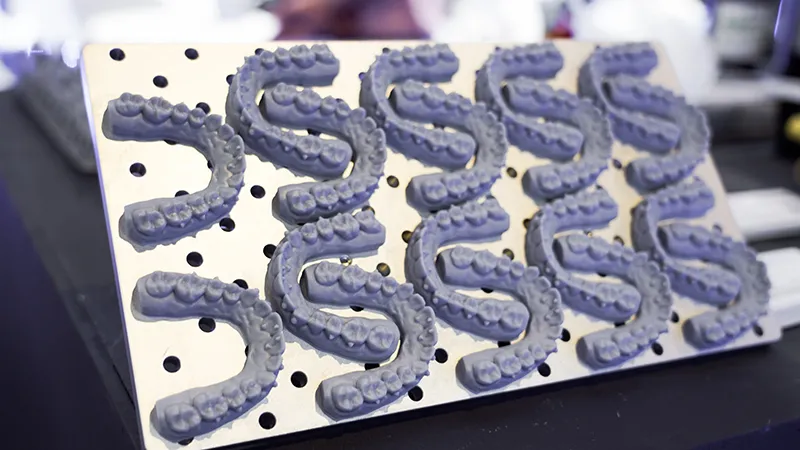 (Focus 13.3 printed dental models are exhibited)
02.Foto series: focus on model parts
The Foto series Foto 6.0 and Foto 8.9, which focus on the application of model parts, are on sale. At this TCT exhibition, Flashforge launched two new products, Foto 8.9s and Foto 13.3.
Equipped with 4K industrial monochrome screen + new matrix light source design + advanced optical algorithm engineering, Foto 8.9s and Foto 13.3 guarantee the uniformity of screen light intensity distribution.
The optical engine system developed by Flashforge, together with the newest masking technology, allows the difference in energy distribution to be less than 10%, and high-precision printing can be achieved. The upper cover adopts a flip-open cover design and is equipped with water-washed resin, which is convenient for handling;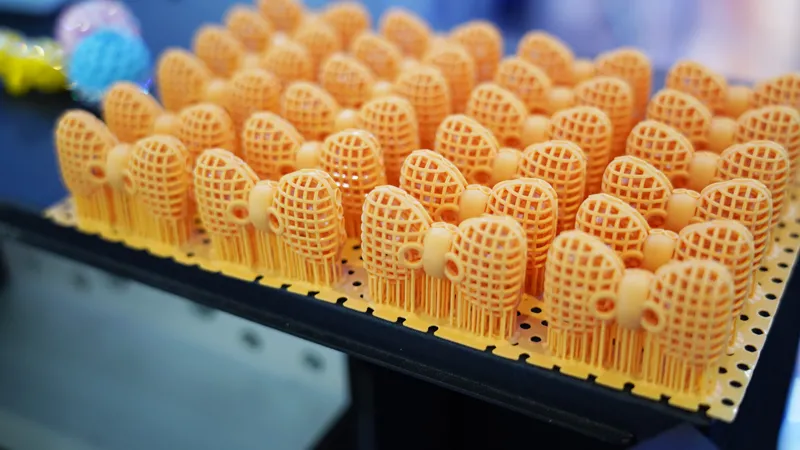 (Foto 8.9s printed model)
The Z-axis is supported by dual-linear ball screw which dramatically improves stability while in motion and reduces the risk of layer shifting, whereas layers are frequently shown in the models printed by common rod motor. The printing volume is 19L, and the supporting resin includes basic resin, tough resin and water-washing resin, which effectively improves the production efficiency of the printing service providers and the factories.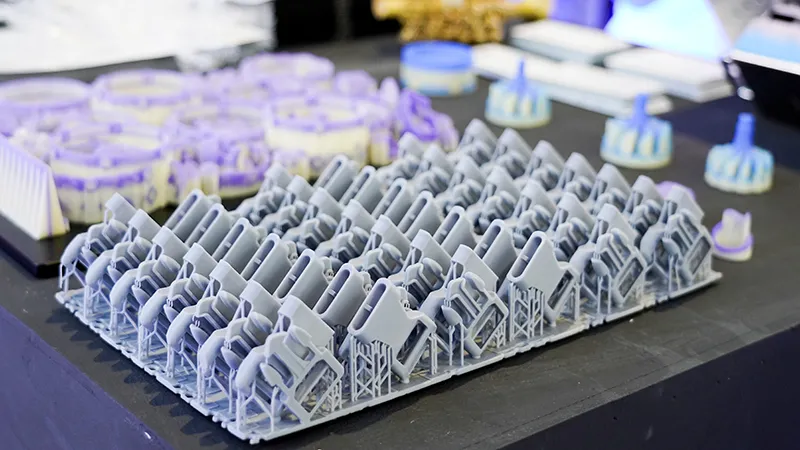 (Foto 13.3 printed model)
The market feedback of WaxJet 400 is hot
As the first WaxJet 3D printer to implement the MJP technology in China, WaxJet 400 has attracted the attention of audiences inside and outside the industry once it went on the market.
The printing size of 304x218x160mm allows multiple models to be laid and overlapped. The thickness of each layer is 0.016mm. It can print a smooth, high-precision castable wax model. It's suitable for jewelry, clocks instruments, crafts, precision casting and aerospace precision investment casting field.
Flashforge now provides complete digital mass production workshop solutions for jewelry, precision casting and other fields. They effectively improve the design result, the production process and the production efficiency.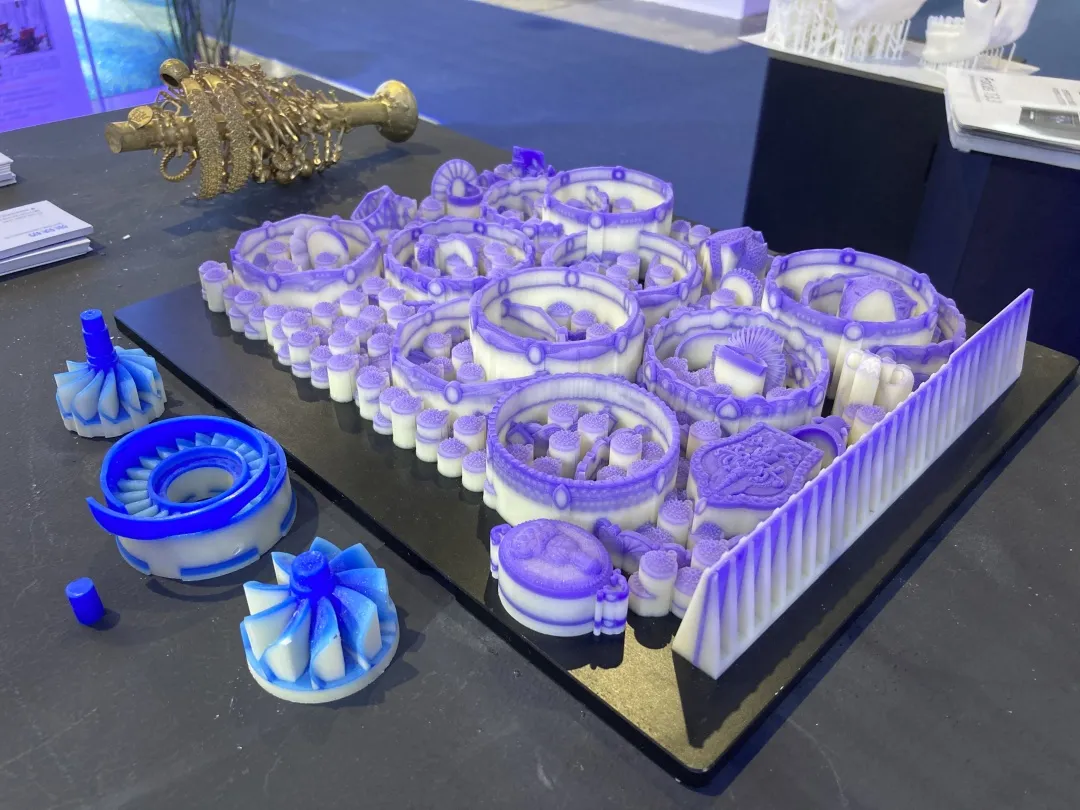 (Wax 400 printed wax pattern)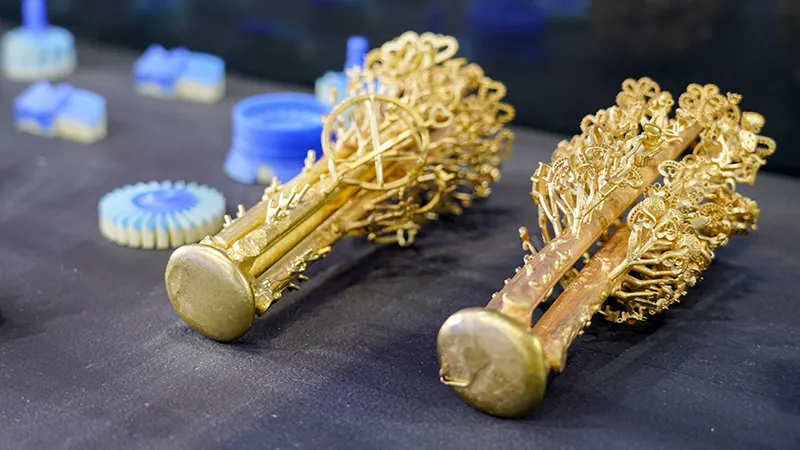 (WaxJet 400 printed copper tree)
This exhibition made the spark collision of the combination of 3D printing technology and various fields.
As a leading enterprise in 3D printing, Flashforge has been committed to applications and developments in various fields. We deeply understand the pain points of users and constantly improve the corresponding solutions, striving to maximize the value of 3D printing in various industries.