Facial prostheses building has been a problematic issue for the patient who used to be suffering from facial damage. Due to centralized organs and structural difficulties, facial prosthesis rebuild is always a hard task for doctors and researchers.
According to this difficulty, a group of scientists took the lead to apply 3D printing, which has the character of customization, to the facial prostheses building. 3D printing precision medical application, based on medical image, anatomy, 3D construction, and computer assistance, has become a digital medication pioneer.
In 3D printing medical practice, the accuracy of 3D printers is strictly required. The patients who suffered from maxillofacial surgery repair, facial asymmetries, facial deformity, and acquired disease damage, could gain the new pathway to improve their life quality.
Dr. Rodrigo and his successful attempt

Dr. Rodrigo and his non-profit team Plus Identity (+ID) team have been working for the last 40 years in the rehabilitation of oncological patients in public hospitals in Brazil. Here is the link to his lab's official site, for the users who would like to acknowledge more information.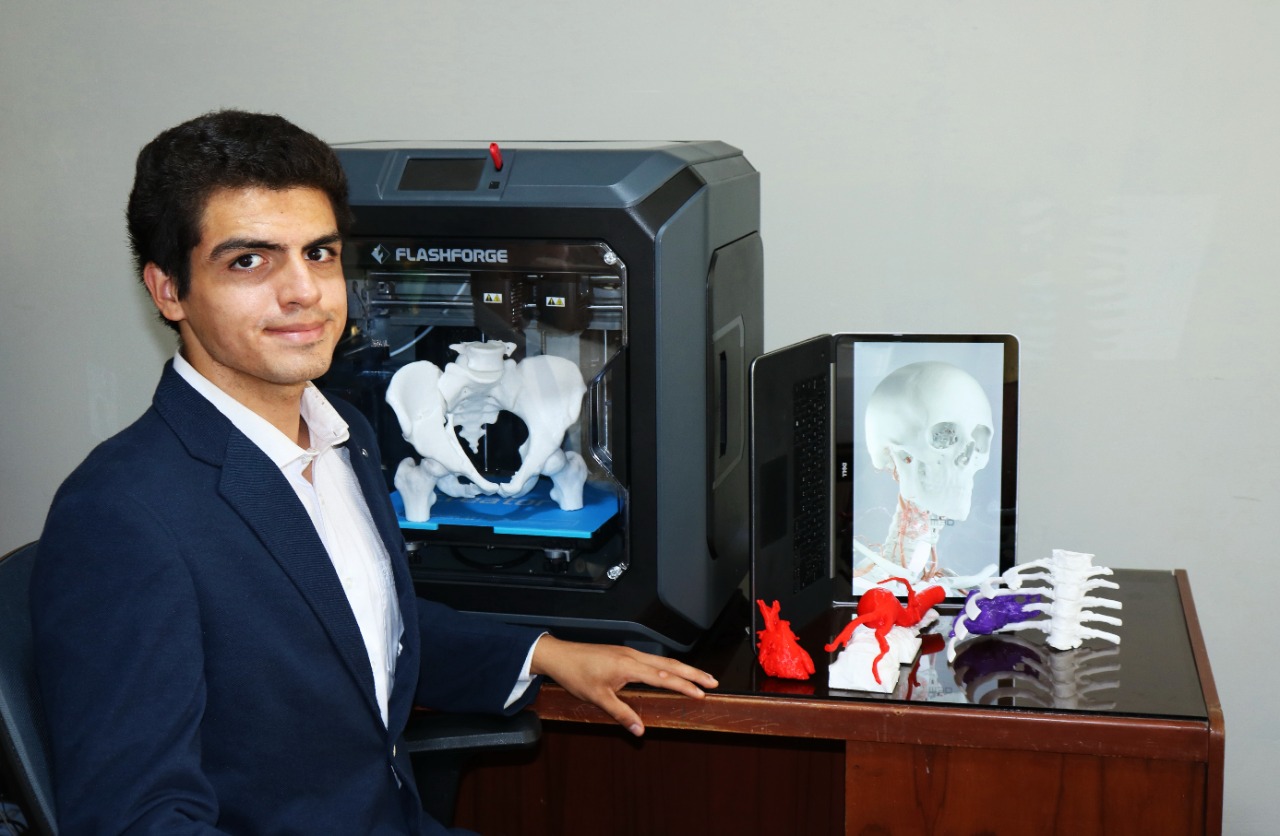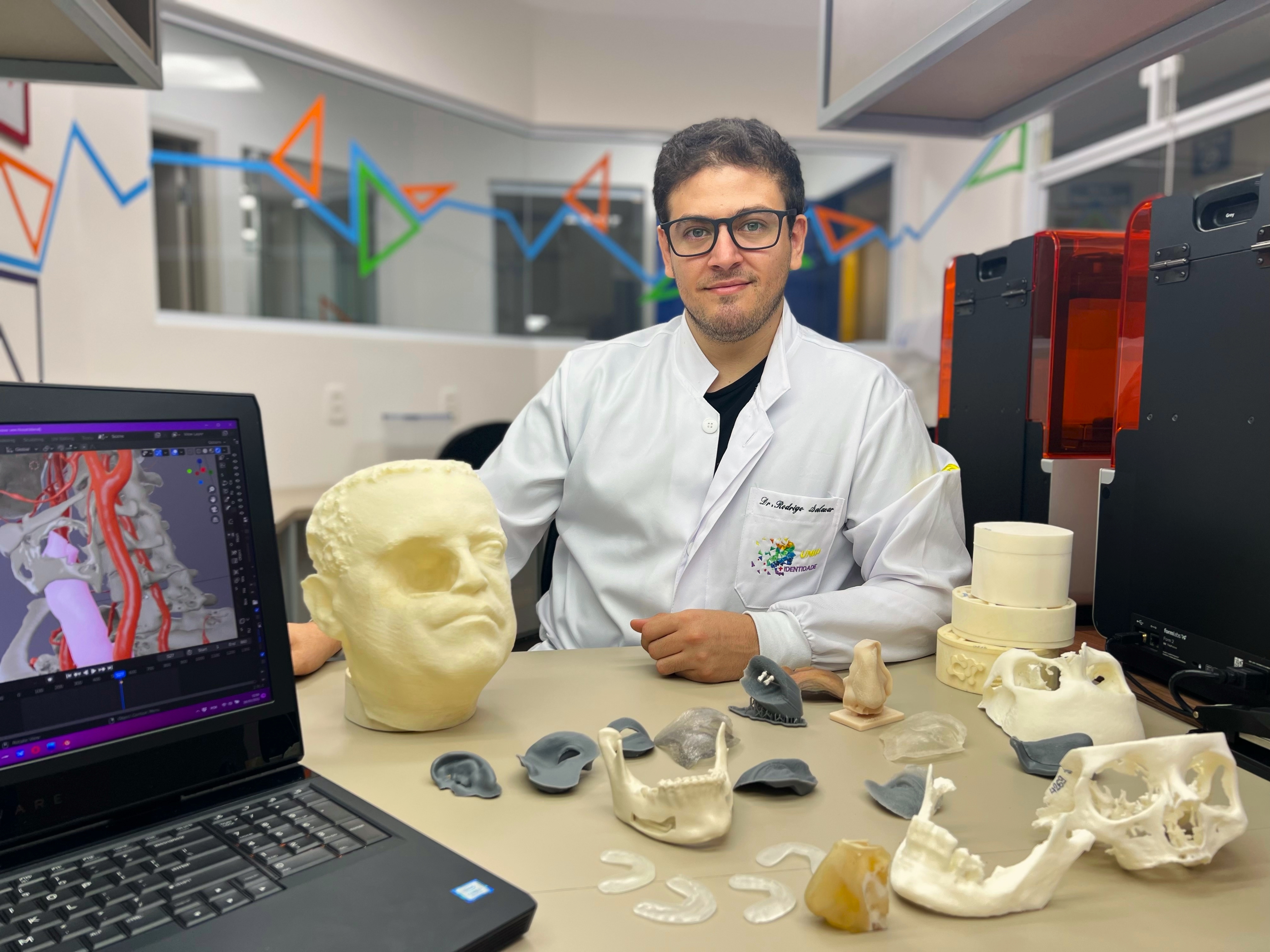 Dr. Rodrigo and his team are dedicated to applying 3D printing facial prostheses at affordable prices. Early in 2015, the +ID team made an attempt to use the FDM 3D printers to achieve their goal. Currently, they use Flashforge 3D printer Creator 3 and Creator 2 Pro as the necessary medical tools in the Plus Identity team, to assist the doctors' reconstruction works.
A 3D printer is not enough for this program. Another tool they used is smartphone software, which is corporate with the Ph.D. students at Paulista University and developed research and solutions around the rehabilitation of oncological. To gain the most easy-popularization method, Dr. Rodrigo and +ID team designed and patented a methodology for an accessible 3D facial prosthesis. They use smartphone captures, open-source software, and 3D printers.
3D printers + software are the methodology for the +ID team to discover more about their project. Data acquisition from photogrammetry can be materialized through this method into a prototype that gives the same level of resultant facial anatomy as high-cost facial scanners and high-cost 3D printers.
The most famous case of the +ID team is remaking facial prostheses for 64-year old Carlito in Brazil. They used Flashforge 3D printers to make the prostheses prototype and waxed it. The new prostheses highly improved Carlito's confidence and the courage to struggle with life. Firstly doctors capture Carlito's facial structure by smartphone. Then they 3D printed it.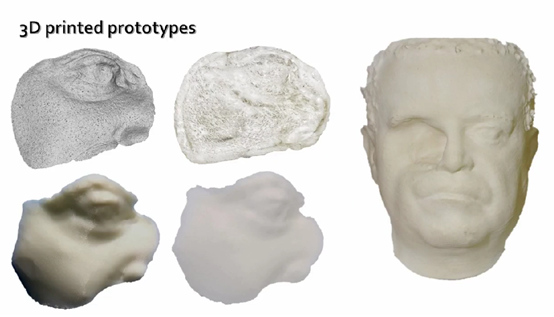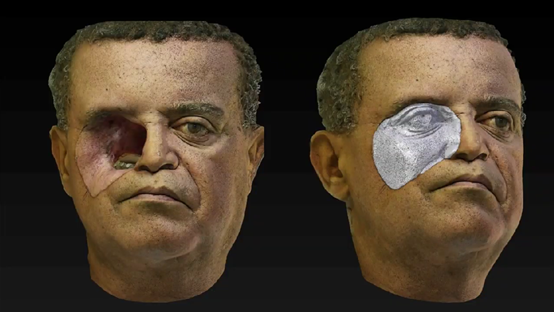 After the treatment finished, Carlito now has almost the same face as ordinary people. He said: 'Now my life backs on track one hundred percent.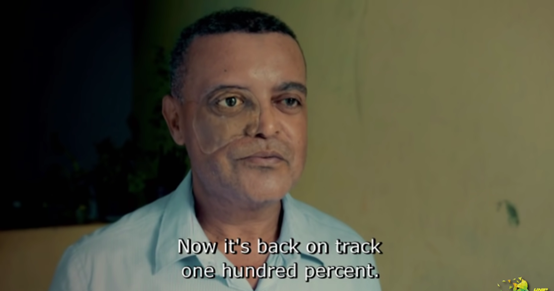 Creator 3 helps Children with Disease

Dr. Rodrigo tells us, the most recent case assisted by Creator 3 is for a 3-year-old child, who had a lymphatic tumor called Macrocystic Lymphangioma, which was located in the left cervical region. Due to its compromise of adjacent anatomical structures, either vascular structures or muscle packages, it was convenient to print the bone structure, the tumor vascular structures, and muscle packages in a post-surgical way for education to parents, colleagues, and even future students.
The following pics present the prototype of this young patient. In total there are 3 separate parts to explain the patient's focus.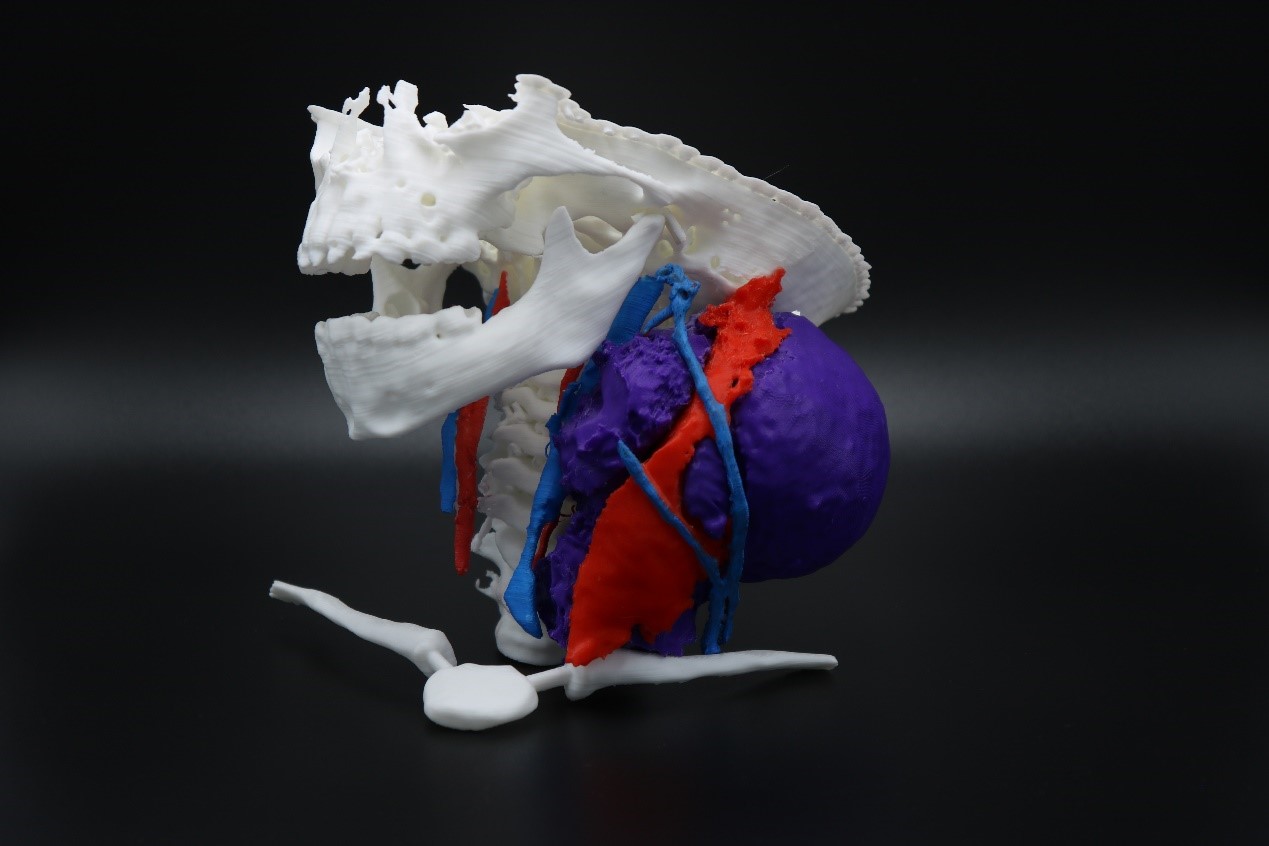 Tumor vascular structures, and muscle packages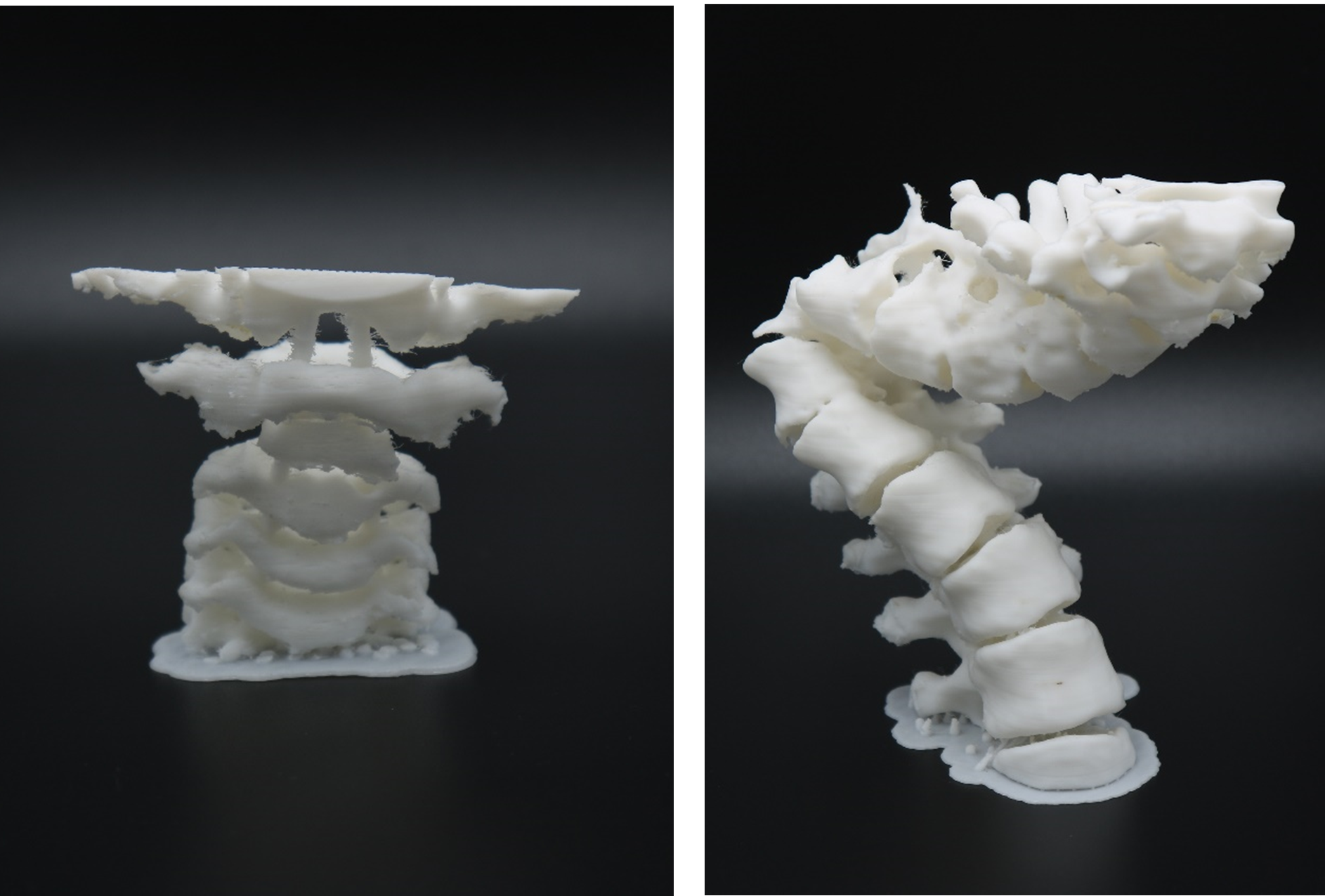 Bone Structure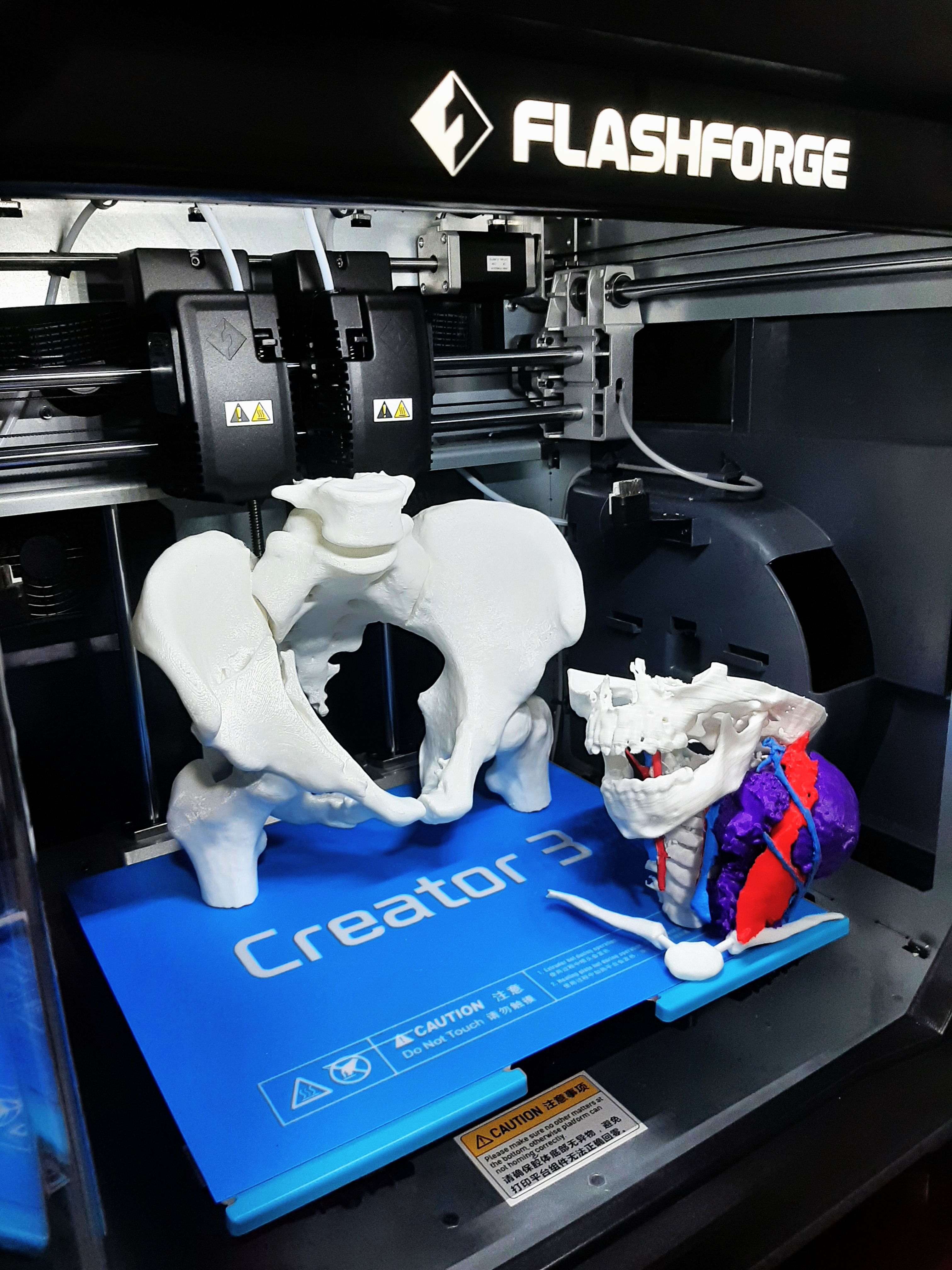 Except for the professional Creator 3 3d printer, FlashForge consumer 3d printers have also been used in other specialties. For example, the INSN-SB proceed with a request for a child with a fracture of the odontoid process in the second cervical vertebra, with the help of Flashforge Inventor 3D printer back in 2018. Due to the smallness of its anatomy and being nearby to a vascular anatomical variation, 3D printing was useful for successful presurgical planning. Also, doctors found 3d printed models quite helpful to better evaluate the case, find a surgical possibility and especially for patient and parental education.
In the End
3D printing tech has been sufficiently applied to digital medical treatment for several years. After the cancer sequela, vehicle accident, and medical cosmetology, abundant clinical experience allows 3d printing technology to help the patient in facial rebuilding. By applying the character of customization in medical science, art, and technology, 3D printed facial prostheses can maximize the design of patient-specific restorative prostheses, satisfy patients' pressing demand of rebuilding appearance in after-surgery life.
With digital medication passing discovery, research, and experiment stages, Flashforge is excited to see it into clinics and labs practice. Actually, Dr.Rodrigo and the +ID team are not the first to apply Creator 3 into the medical field. Dr. Federico Espinola, together with the Universidad Nacional de Asuncion Hospital de Clinicas in Paraguay, conducted a preoperative planning case with Creator 3 last year. Please refer to this article for more details. Flashforge would love to break through the hardship of patients' customization service. Reach us for discussion, explore 3d printing possibilities in the medical field.