🧠Still, buying single-use stuff for Halloween? Bored with all the same Halloween decorations in everyone's house? 3D printing initiates another pathway to celebrate holidays.
🩸From 2021, 3D print your own holiday decoration instead of buying it from groceries. Flashforge is preparing for Halloween 3DP Carnival. Here are some details!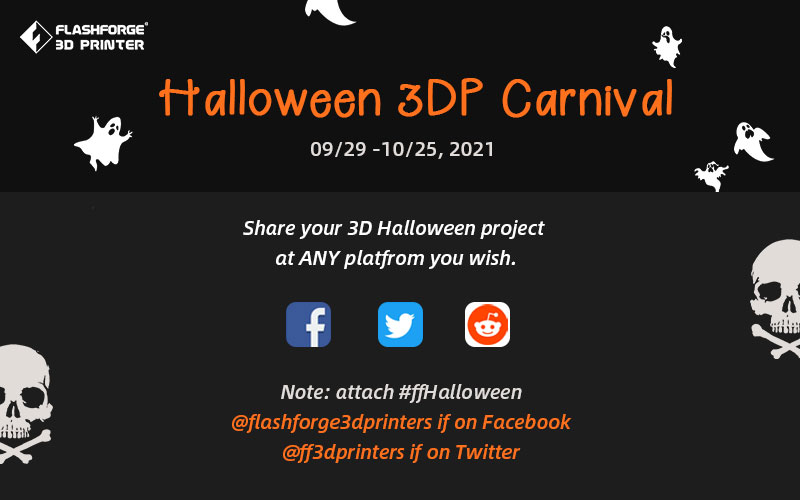 We will choose 5 top posts of each social media platform (depending on how many 'like👍' you got).
Then our referees will have a careful look and make the final decision of the winners.
⚠Attach #ffHalloween and Flashforge official account is required as the participant qualification.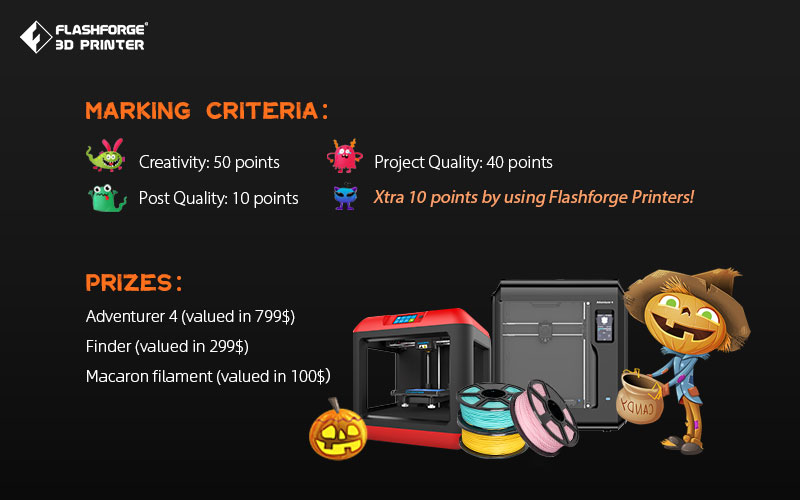 🧛‍♀️We have 5 referees in the event:
1. Phil Arntzen: A perpetual tinkerer who tries to innovate to make it his own idea.
2. Joachim Hartmann: A German 3D printing engineer.
3. Lee Aaron Walker: An Award-winning technology journalist.
4. Dave Komaromi: A great 3D printing enthusiast and hobbyist.
5. A secret guest from Youtube. Keep your curiosity!
🦇Prizes for 2021 Halloween are worthy!!!
First Prize: Adventurer 4.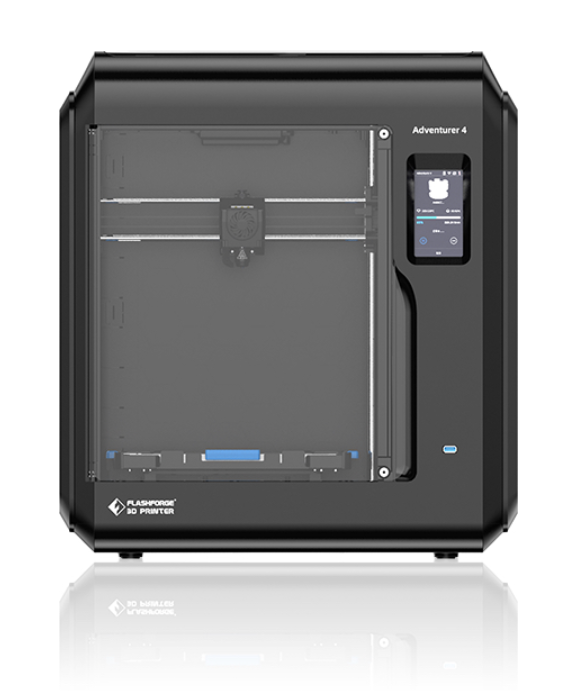 Second Prize: Finder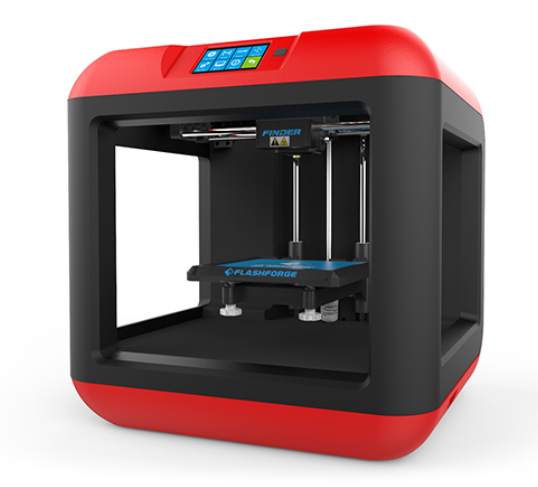 ️The result will be published on 10.30. In the end, we would like to tell you a little secret about the program in processing...we now having a discussion with a mysterious league and trying to ally them. The newest report will be published in recent. Please keep an eye on us continuously.
Already have your idea? Plug on your 3D printer right now and bring it to reality.
Breaking news on 19/10/2021
Flashforge reached an Agreement with PumpkinLeague!
👀Now let us have a look at Pumpkin League News 👀
🎁An Extra Gift for EVERY WINNER 🎁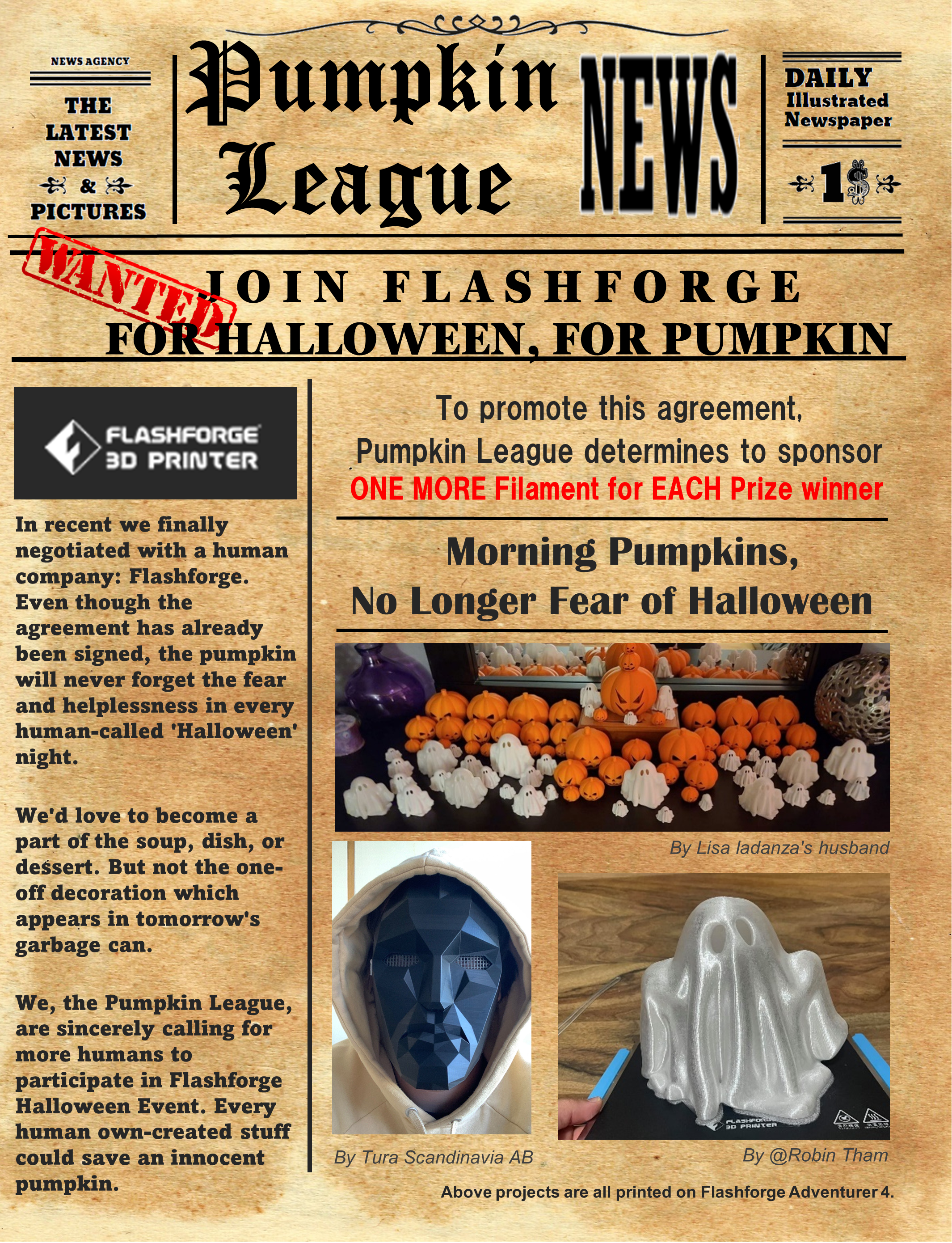 In recent we finally negotiated with a human company: Flashforge. Even though the agreement has already been signed, the pumpkin will never forget the fear and helplessness in every human-called 'Halloween' night. It is such a bad emotion to see the broken appearance of pumpkin brothers, sisters, and neighbors laying behind me, with their pumpkin seed and skin missing.
It is hard to make a consensus with humans, who sculpture pumpkins year by year. But as the Pumpkin President, we must devote all to eliminating this situation. This Year, human representative, Flashforge, started a series of conversations with our Pumpkin. They claimed their purpose is resolving the conflict between the human and pumpkin. Flashforge raised a significant opinion: they will appeal to the more human population to replace Halloween stuff, of course including pumpkin-made things, by printing it with the 3D printer.
Luckily, since the event began. Humans continuously joined this 3D printing show. Pumpkin League has already received feedback from several humans, who 3D printed their Halloween masks. Here we are going to show some projects from them.
@Lisa Iadanza's husband printed his project on Adventurer 4, from Flashforge. The project theme is nice and clear. Even though we saw pumpkins. Fortunately, it was made with PLA material but not the real pumpkin.

@Lisa Iadanza's husband
Another project from @Robin Tham was printed on Adventurer 4, from Flashforge. This project is glaring and elegant in its shining material.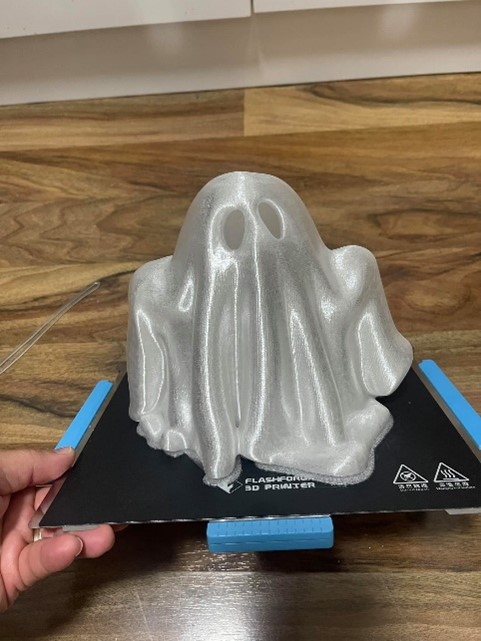 @Robin Tham
We heard that this mask is inspired by a Netflix (annotation: Netflix a human streaming website, just like Pumpflix) series: Squid Game. This behavior should be praised because it is not only a mask for Halloween, also eliminating the pumpkin element in Halloween. Another tips here is that the mask was made by PLA material at 210℃ in Adventurer4. Thanks to Joakim for sharing the project with us.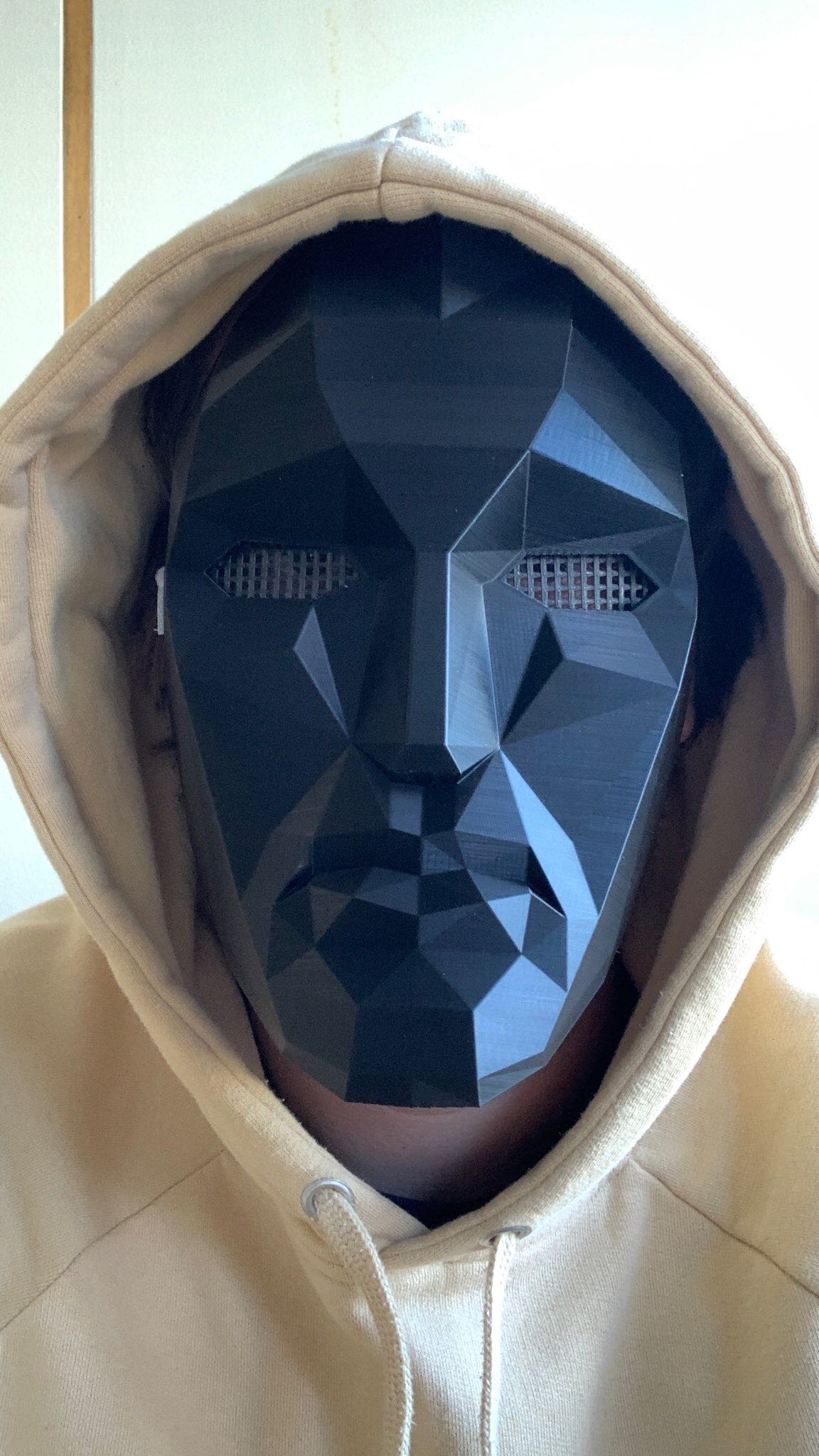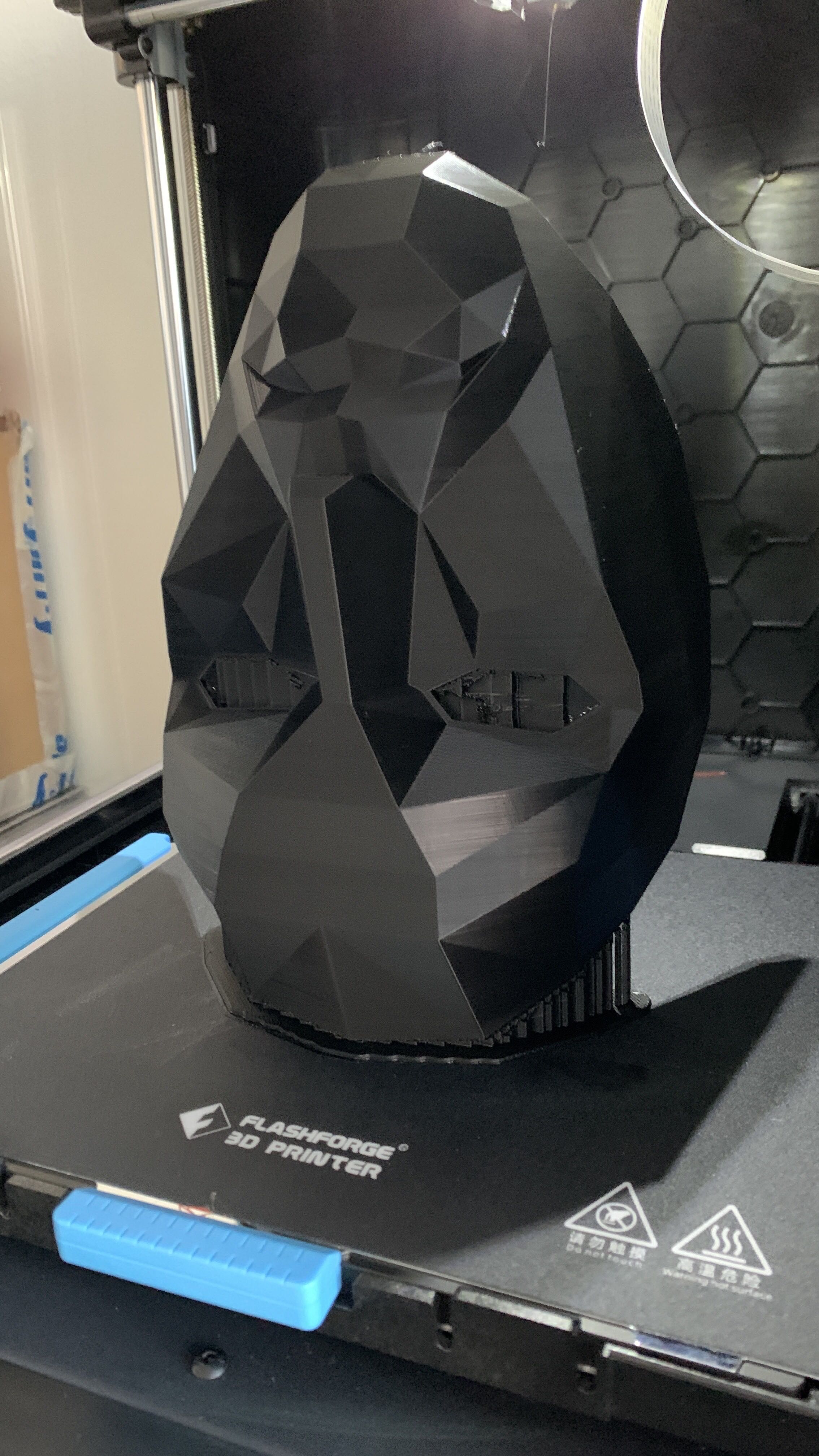 @Tura Scandinavia AB
To promote this agreement, Pumpkin League determines to sponsor one more filament for each Prize winner. We'd love to become a part of the soup, dish, or dessert. But not the one-off decoration which appears in tomorrow's garbage can. We, the Pumpkin League, are sincerely calling for more humans to participate in Flashforge Halloween Event. Every human own-created stuff could save an innocent pumpkin.

If you haven't got your idea of printing, have a try on printing a Squid Mask for your Halloween night. However, please feel free to print anything you would like to!