Ian Roy, the Director for Research Technology and Innovation in Brandeis University's Library, held an offline workshop for students to improve students skills with Flashforge FDM 3D printer: Adventurer 4 and Creator Pro on 17th June 2022.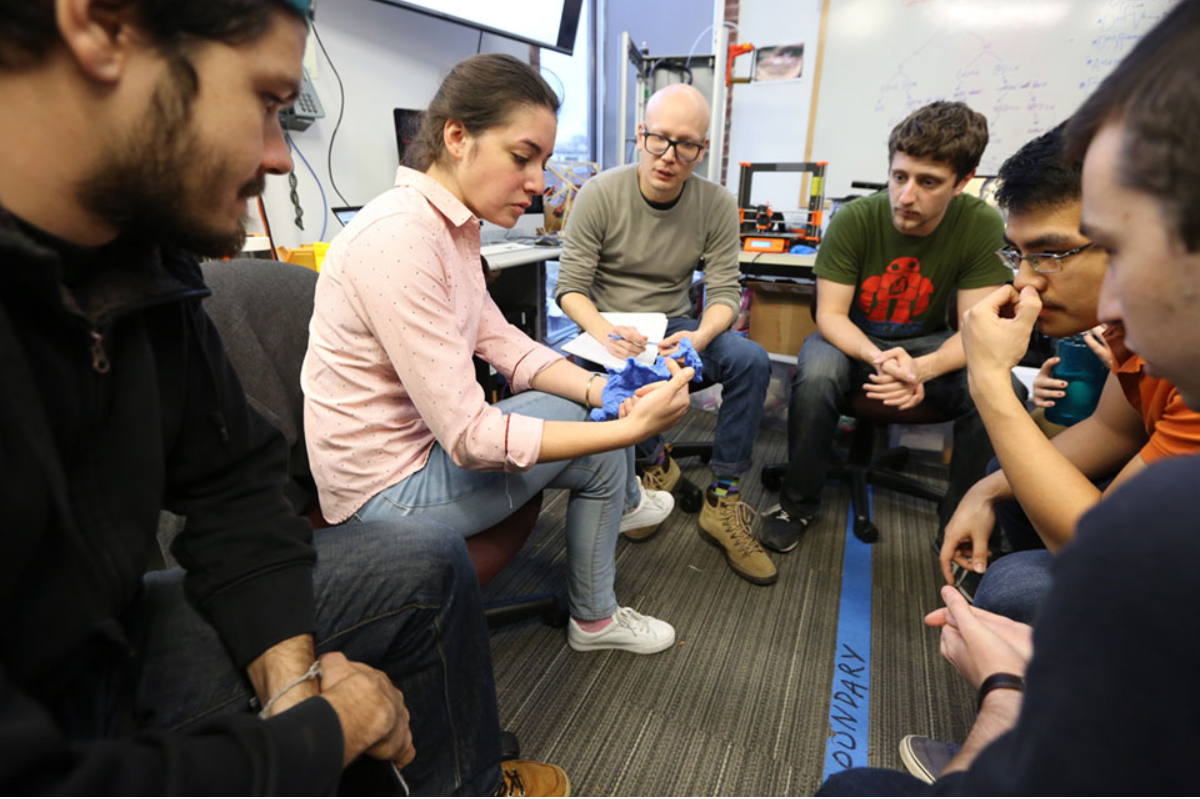 This workshop on 3D Printing is also an intro to CAM (Computer Aided Machining) course. In this training, students will also get a peek into the 3D Printing world, and learn how to operate Creator Pro and Adventurer 4 FDM 3D printer. After completion of the training, students will gain a card swipe into the MakerLab.
During the 3D print class, Professor Ian will start with a PowerPoint to look at some use cases, possibilities, and dangers of using 3D printers. Then we will move on to the hands-on part, where we download a 3D model, slice it with Simplify 3D CAM software, and start a 3D print with Flashforge 3D printers.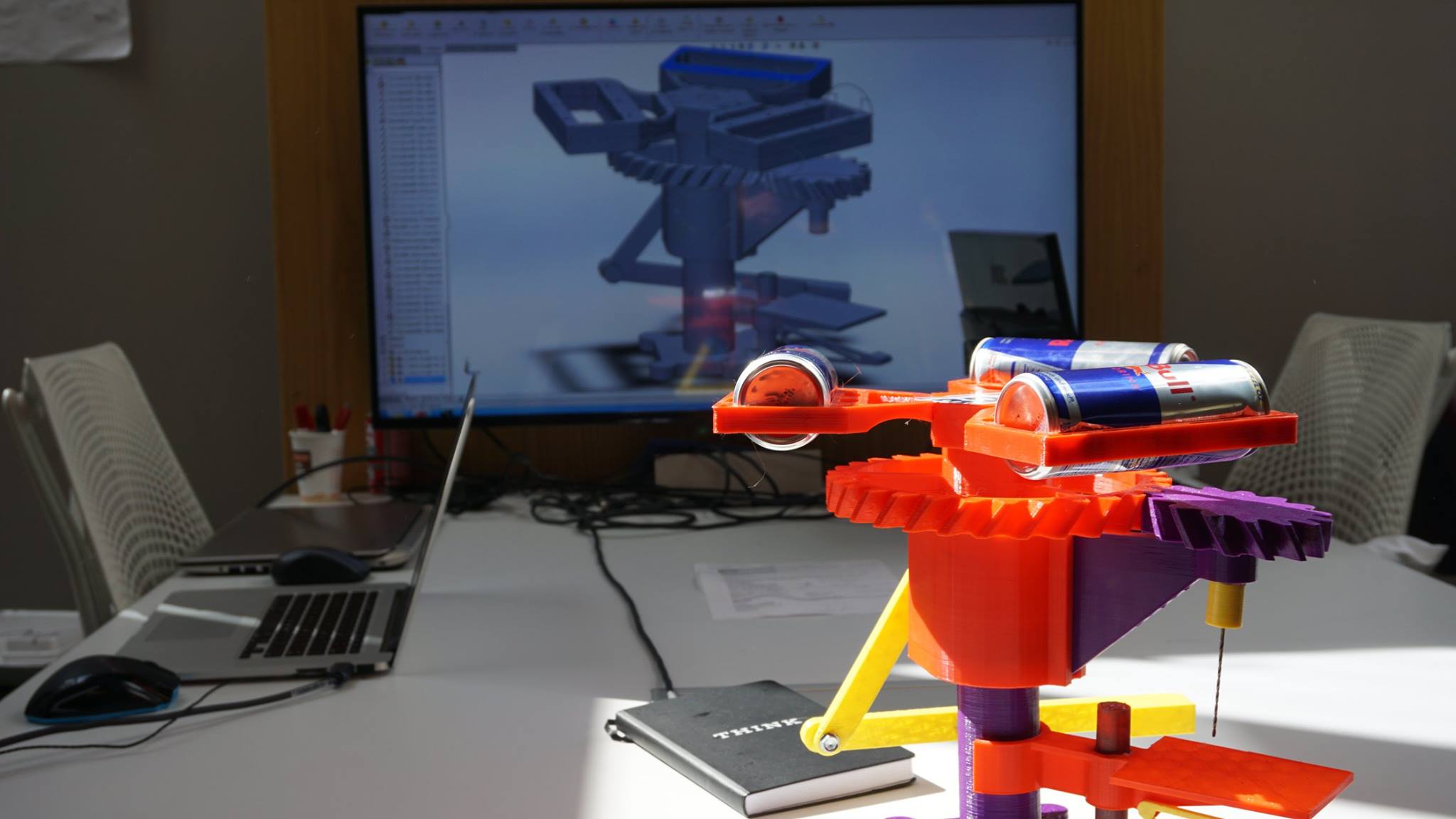 Since Brandeis MakerLab is established, a number of Flashforge FDM 3D printers are equipped and welcomed by students. Professor Ian is also the Founding Head of the Brandeis MakerLab and an Adjunct Professor at the Brandeis International Business School.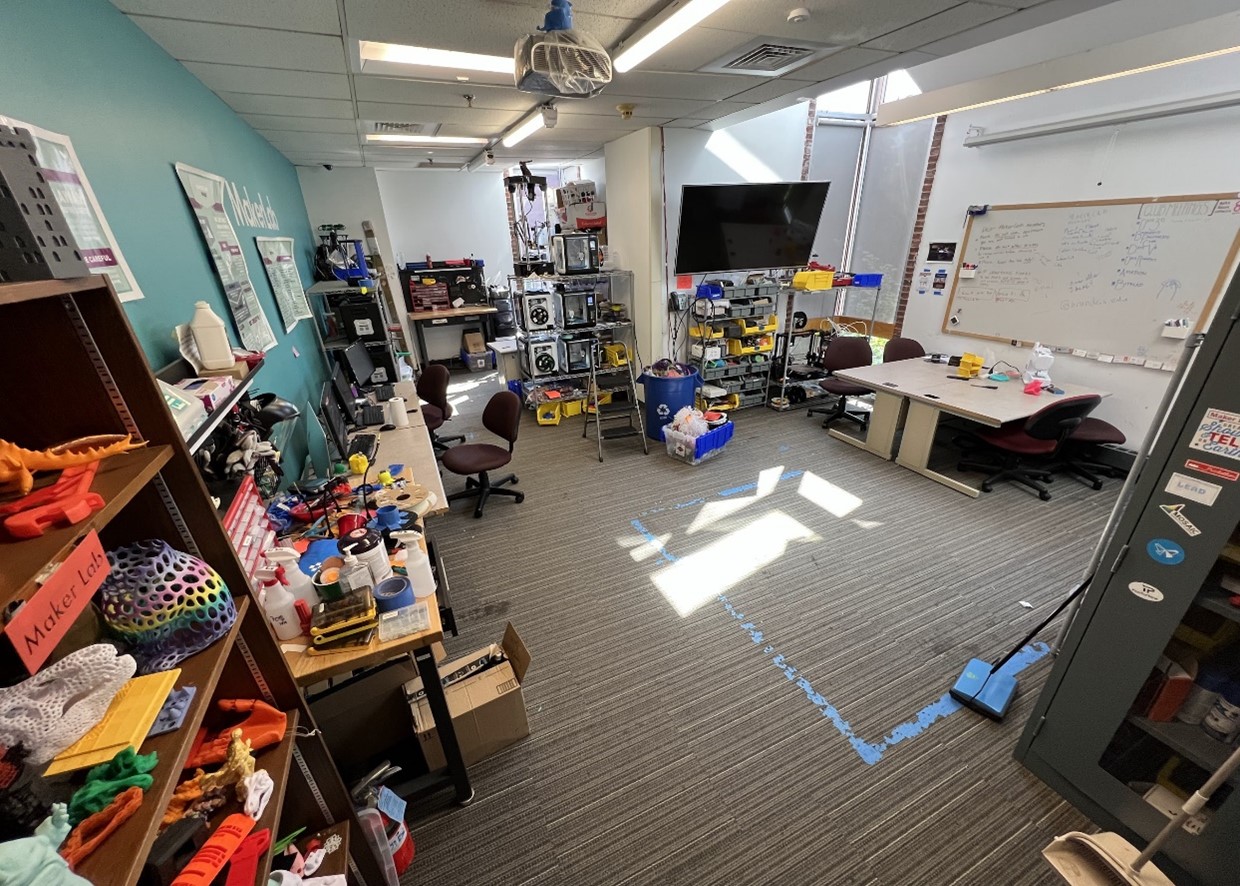 Professor Ian's group Research Technology and Innovation manages the 3 public Makerspaces in the Brandeis Library: The MakerLab, The Automation Lab, and the Digital Humanities Lab. His team works with researchers to overcome the technological hurdles they encounter in their workflows, top to bottom, and they constantly run local pilots in new technologies to address their needs.
Their work touches on desktop/laptop/server break-fix, instrument machine support, digital forensics and security tools, institutional storage of Big Data, Cloud collaboration and backup in a Big Data context, and many of the new toolsets in the Maker community, including support of touch and gesture inputs, multiple displays, VR head-mounted displays, Digital Fabrication (3D printing, Lasercutting, CNC), 3D scanning, robotics, drones, and embedded systems (Raspberry Pi, Arduino).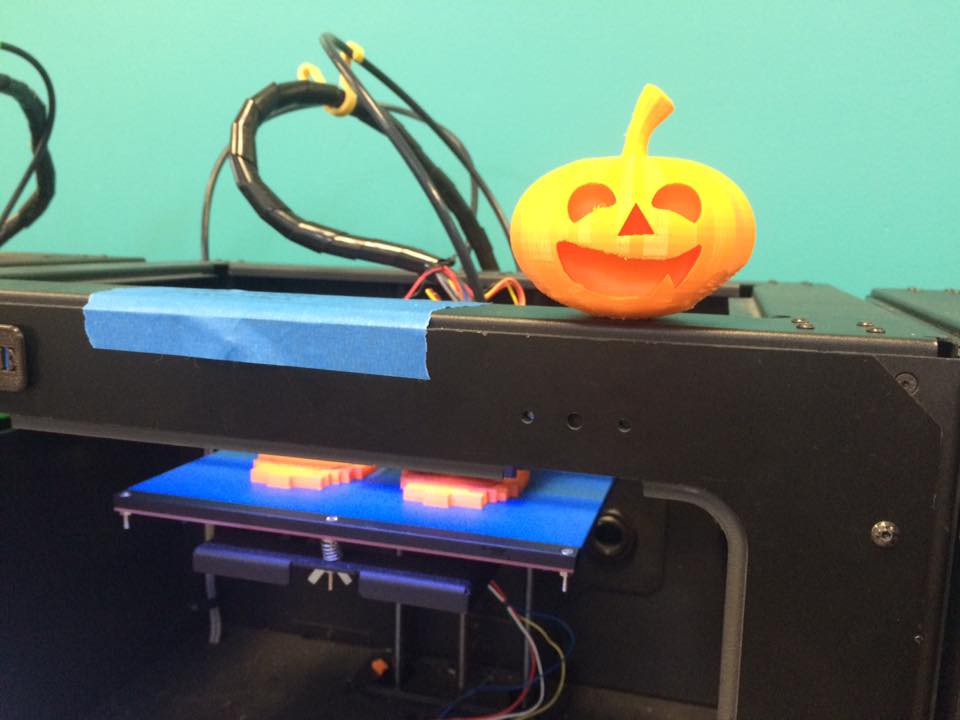 By applying Creator Pro and Adventurer 4, students could gain the achievement in this course: the ability to take a design from concept to reality through 3D printers. Students will learn the fundamental underlying technologies in digital fabrication, 3D scanning, 3D design, and robotics. There will be a focus on literacy of underlying technologies: how things work, what their limitations are, why they fail, and how to troubleshoot or design around those limitations. Usually offered every semester."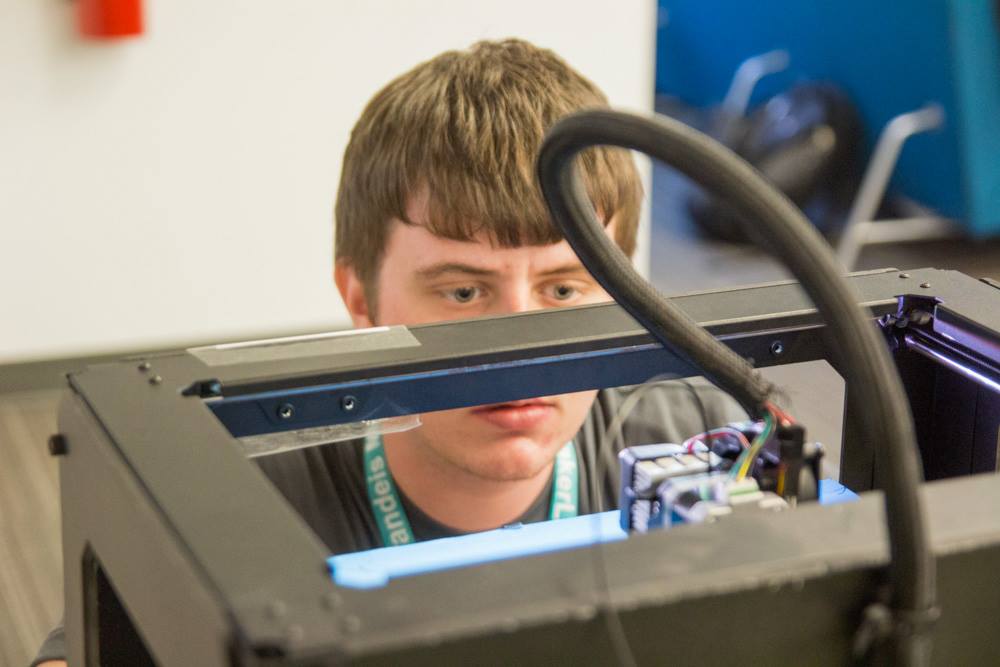 Both Creator Pro and Adventurer series are suitable for education 3d printer choice. Different from the 3D printing class and student 3D printers in primary or high school, the Finder series is usually taken as the teaching machine for its simpleness and easy operation. In advanced education institutions such as universities, sufficient skills allow students to apply the Adventurer 4 as the entry machine. Creator Pro is the forward stage.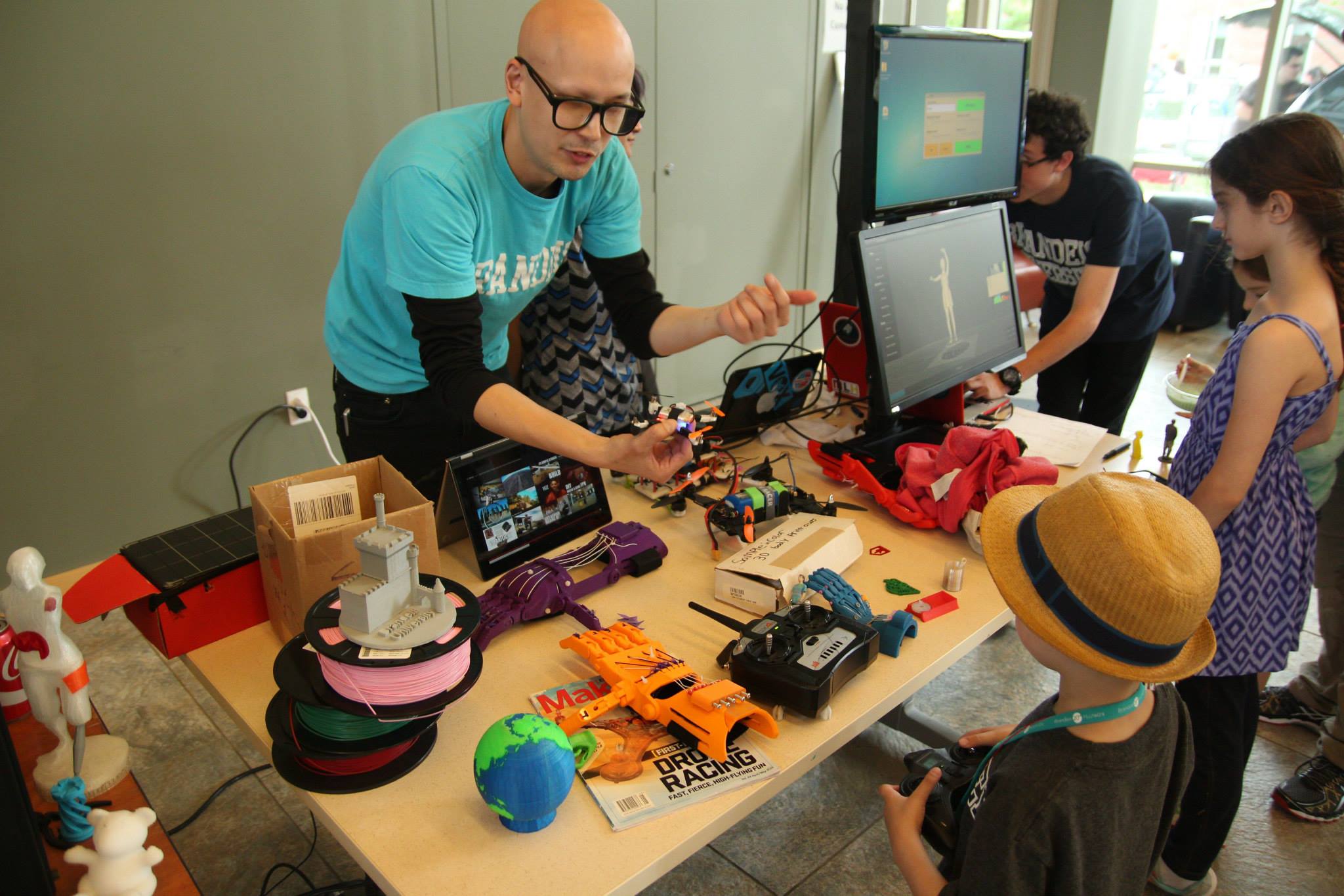 The application combination of education 3D printers is diverse now. Different 3D printer plan works for the different educational environment. Not only for STEM below the undergraduate education but also for the undergraduate and even higher. With Flashforge self-design software Flashprint, we believe the 3D printer class is popularizing worldwide in all classrooms.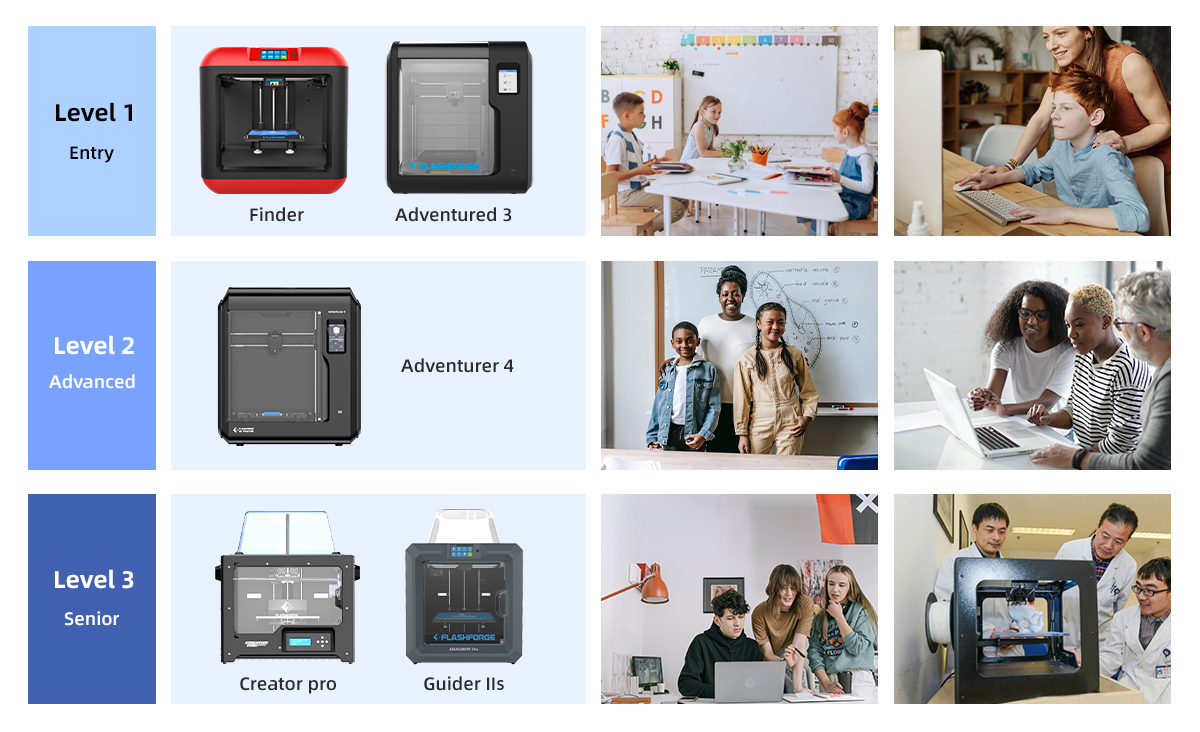 Finder 3D printer series for the entry-level user. Adventurer 3 and Adventurer 4 is a constantly up forward 3D printer series for advanced users. Creator Pro, Guider IIs, and other 3D printers are the choice for the senior users whom with sufficient 3D printing knowledge.
If you have further questions or inquiries about equipping education 3D printers in the classroom, please feel free to contact Flashforge, we will provide an available solution according to your condition and demand.