As an advanced version of Flashforge Adventurer series 3d printers, Adventurer 4 became one of our most popular 3D printers soon after its release. We received numerous stories from our users on how this 3d printing helps them to create a better life. Here, we'd like to share Mandy's 3d printing story with you.
'I don't often buy gifts anymore,' said Mandy. Since she received her Flashforge Adventurer 4 September last year, she is totally free from this universal ultimate question: what should I prepare?
Adventurer 4: The'Factory' with One Production Line

Mandy had been getting rid of Kmart and groceries for a long time. During these days, she made a home decoration 'factory' of her own. In Mandy's tiny factory, she built nearly a whole Disneyland. Castle, Micky, Pluto, and such cartoon characters are all 3d printed. A simple bedtime story cannot comfort the tired child, the real fairy can. It is believed those dolls have a pure soul and live in the castle Mandy made. Imagine if there is a parallel world, every time Mandy comes along the castle, the printed Micky and Pluto will rush to her and say the classic 'aw, gee'. That is the wonderland that they could be alive and companions with Mandy and her family members.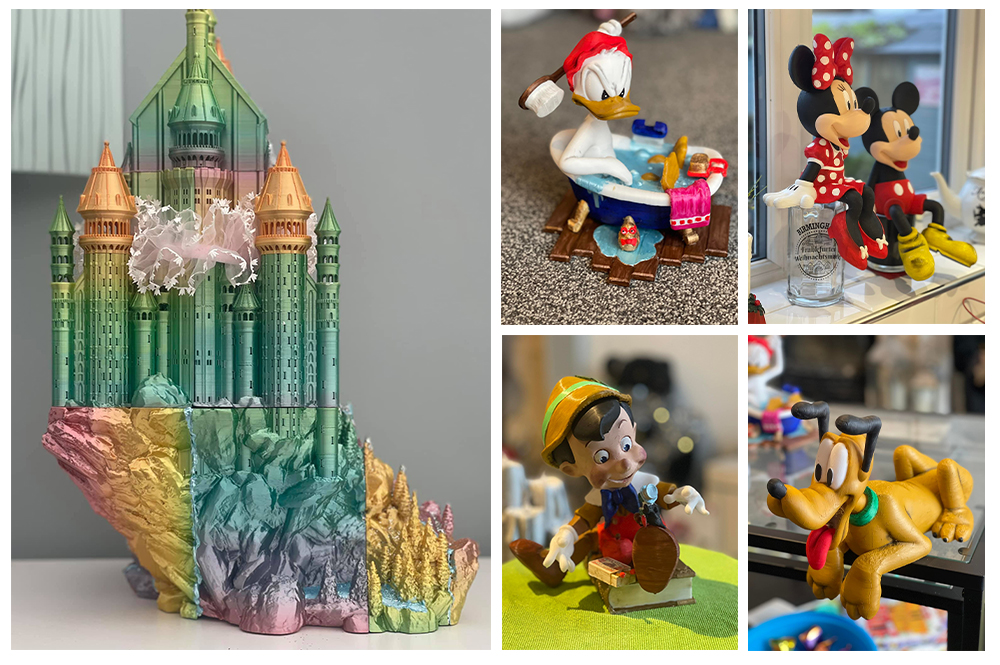 During the 18-month with Adventurer 4 printing, Mandy tries almost all the filaments which fit the Adventurer 4. Choosing a proper filament is the first step in successful 3d printing. In the Disney series, Mandy used Flashforge rainbow filament to produce the gradient castle. For the Disney character, she used ABS filament for easy modeling and coloring.
Before every large printing project, she did a self-tutorial to ensure the project's quality. Over 15,000 Flashforge community users on Facebook is always enthusiastic to give their suggestion and ideas. Meanwhile, Flashforge after-sales members are in the community waiting to give professional 3d print support.
The variety of filament also plays a significant role. According to different product usage, the demand for materials is changing. Adventurer 4, of course, will not ignore your demand. Up to 8 types of 3d printer filament could be applied to this machine. Here Flashforge prepares an easy filament form for helping you make better choices in selecting filament by your preference and nozzle temperature.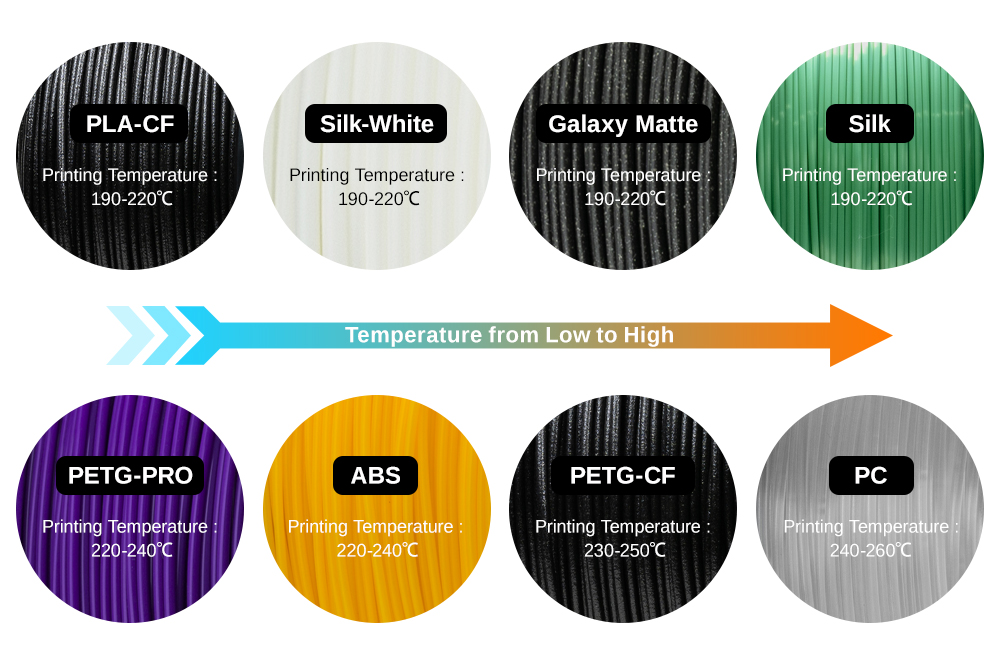 At the same time, there is a little tip. Pay attention to the printing temperature for each filament. The too high or low temperature could cause the oozing or nozzle clog. Some nozzles could possibly not afford the required temperature. To meet various 3d printing demands, Adventure 4 supports alternative nozzles with different temperature: 0.3mm/ 240℃, 0.4mm/240℃, 0.6mm/265℃ .
Adventurer 4: Adult's Toy Producer

Besides the self-made gift and 3d printed toys for kids, Mandy created the 'big surprise' for 'big child'. This science-fiction weapon, which looks definitely suitable as an adult toy, is printed by Adventurer 4. As Mandy wishes, the huge printing chamber of Adventurer 4.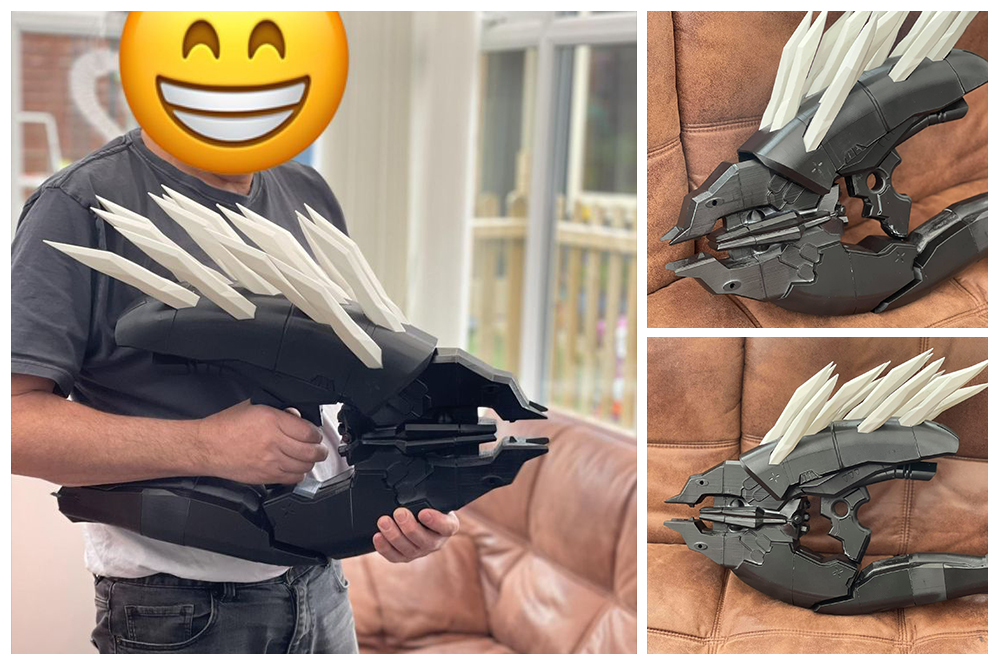 For Mandy, Adventurer 4 is her first choice in printing large-scale models. Almost all the models could be presented completely despite some extra-large size: she need to print the models separately and combine them. Bigger chamber for the bigger dream, Adventurer 4 makes it more reliable. The maximum printing size is 220*200*250mm (8.67*7.87*9.84IN)
The later process on the STL file is an easy step as well. All features are designed in an operation-friendly way. Mandy thinks Adventurer 4 is a suitable machine for transferring beginner characters to the expertise. The UI design is simple and convenient to find.

Such detailed models are exactly owed to Mandy's credit: Eat, sleep, 3d print, repeat. She focuses on those printers every day. What Flashforge has never expected is that there is truly someone in fever with a 3D printer, the little magic machine: for Mandy, sometimes all 5 go altogether.
In the End

After we had the interview with Mandy, she shared many inspired things with Flashforge. Also, would be more than happy to share with all you guys:
'Mentally 3d printing has been a godsend. Because I do not work, I can devote sufficient time on 3D printing. Until now, I have 18-month experience in 3D printing. Most importantly, don't be afraid to try even if it doesn't work. Mistakes happen, but I never give up. Treat the error and fault as the difficulty-increasing level. Challenge them, then beat them down.'
The threshold of 3D printing is not untouchable as the high-tech magazine tells. Otherwise, with the suggestion from experienced users and our engineers, everyone is the potential expertise. Now the 3D printer's interface is all designed in a user-friendly way.
Join Flashforge for creating more individual possibilities. Monthly 3D printing activities and competitions with prizes are held frequently on our social media site. Are you wondering about the award for the next activity? Click for more information 👉 Flashforge 3D Printer Official User Group
Mandy also shared some stl source links, for your quick 3d printing reference.
1. Thingiverse: https://www.thingiverse.com/
2. cults3d: https://cults3d.com/en
3. Etsy: https://www.etsy.com/