Flashforge Creator 3 is published in 2020 as a professional 3D printer. The original intention for Creator 3 is to provide 3d printing solutions for small factories and individual studios. However, Creator 3's application is wider than Flashforge expected.
For the long period following the users of this 3D printer, Flashforge invited Annie Moberg and Joachim to share their unique stories with their 3D printers. Through their stories, Flashforge amazingly figures that Creator 3 is not only an industrial machine but has also been widely expanded by the boundaries of imagination. Creator 3 in real life is more than a 3D printer, it is also a fun maker.
Annie Moberg: We Call her Life Artis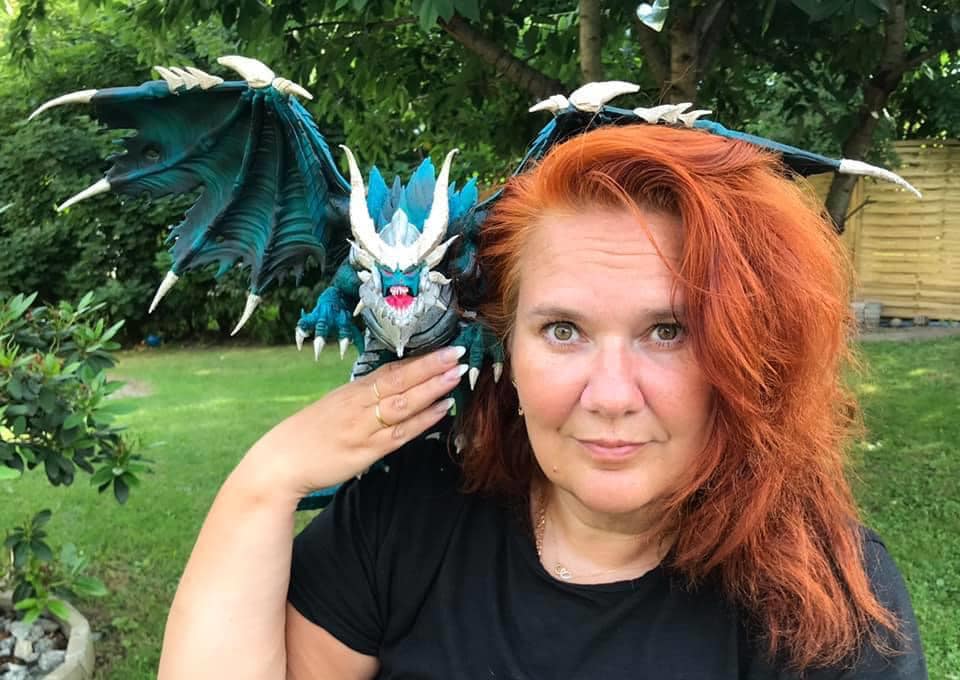 Annie with her 3d printed dragon toy

Annie is an expert 3D printing lover in the Flashforge community. Her two Creator 3 have been working over 13,000 + hours totally. By the way, all her Flashforge 3D printers work 24x7 constantly. The duplicate print is a useful model and is already printed under this mode for a lot of projects. Her projects are famous for their excellent coloring, detail, and design.

She holds the exhibition of her own projects just in former time. The 3D printer creates vivid creatures in Game of Thrones, Viking Series, 3d printed art statue,s and so on. Check out more information about Annie's project here.
Once we discussed the most useful function, Annie mentioned the dual extruder and its application. It increasingly declines the printing time twice.
The dual extruder works in the following modes: Mirror Mode, Duplicate Mode, Soluble support mode, multi-material print mode.

Here is how Annie fully applied these features to her 3d print models project.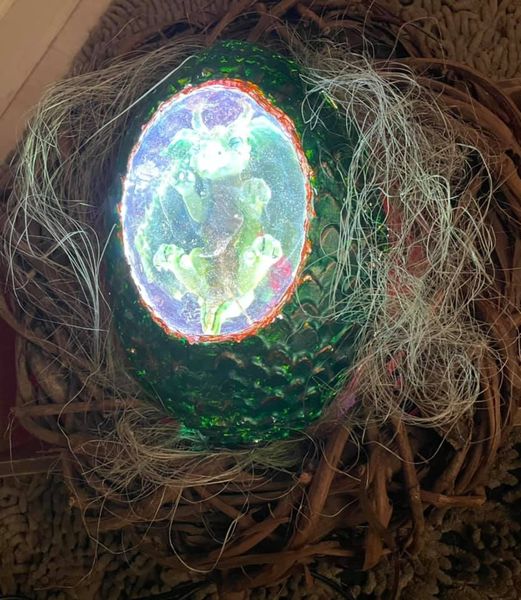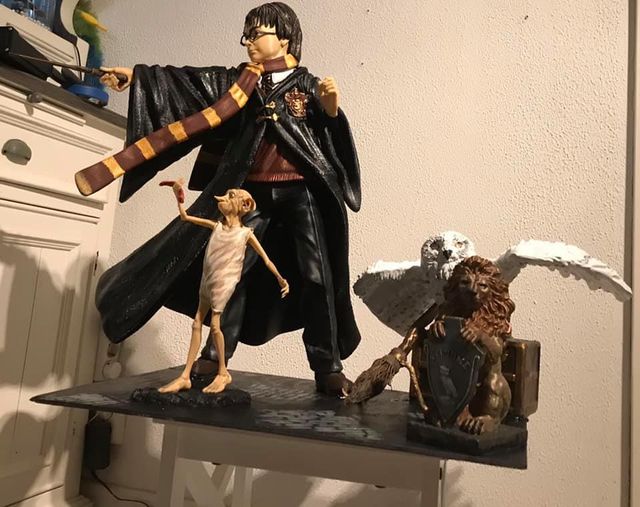 Annie also gives Flashforge a few tips for perfecting the printing. For Annie, the printing tools are the first step, such as the Creator 3 3D printers. Another element is the software. What she would like to share is FlashPrint, the 3d slicer for filament printers, and FlashDLPrint, the slicer for resin 3D printer. Developed by Flashforge, both 3d slicing software is pretty friendly to operate and set the data. It does not have a long text or user guide to learn. Just install it and open the interface, all the patterns will directly be presented. The last step is balancing the attitude. Patience is a critical factor in printing. You need to adjust the patterns again and again to ensure success.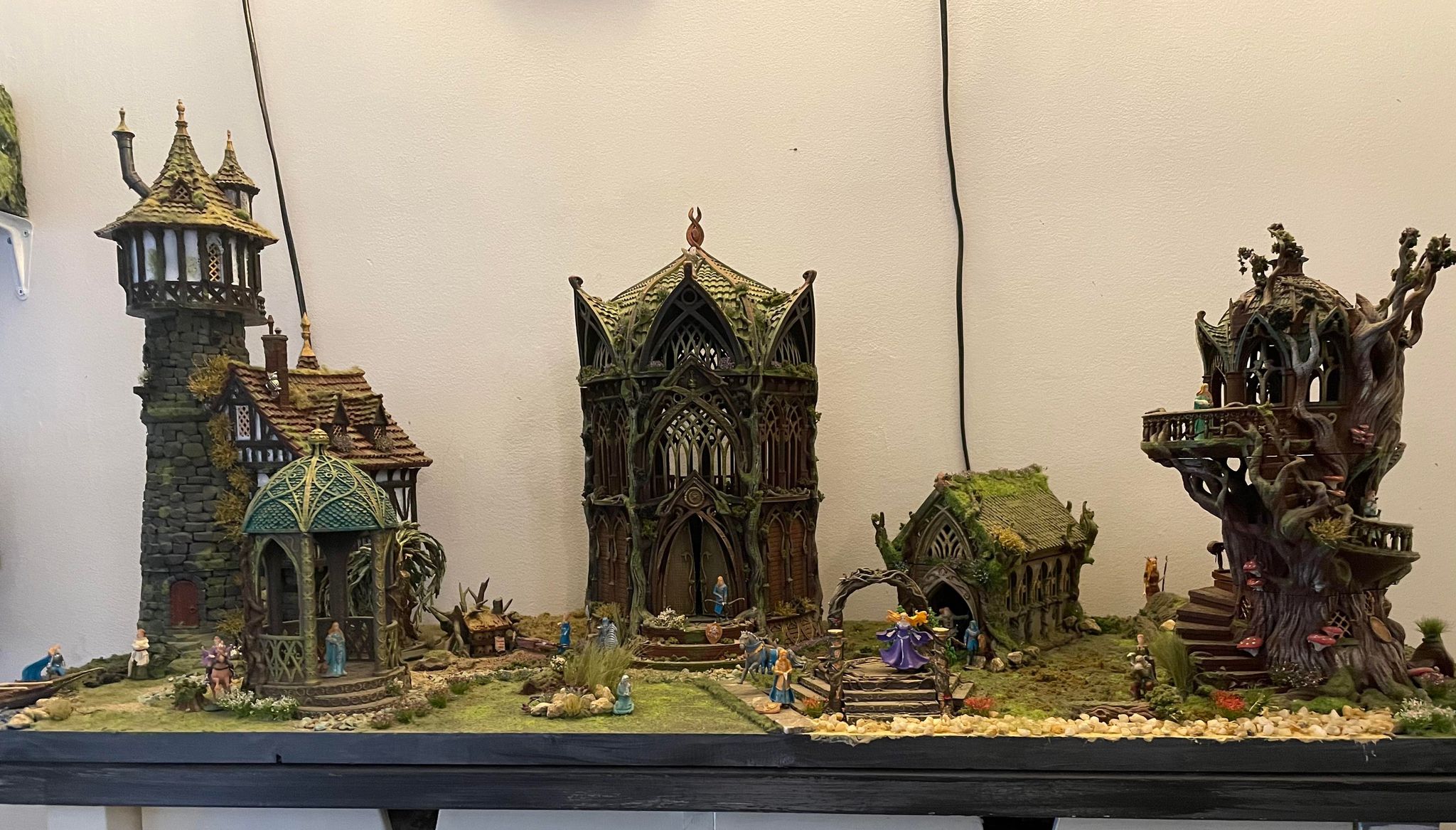 Annie is such a 3D printing addict and high-intensity work nearly filled her life. However, 3D printing is exactly how Annie figure out her own methodology to cure her of the pain of the past, and the machine to create the new happiness at present. People who admire her project sometimes text her and asked if the project be sold. She has only one answer:
'I do not, and will not sell any of my projects. It's not my cup of tea, 3d printing is a way of life for me to keep me sound in my mind'
For Annie, Elvish village crafted by Creator 3 is convinced the most particular to Annie. Now it locates beside her sofa. It presents family affection and love. Here is the project. It took months to accomplish. Annie decorated it with some lights to make it more magic. It is the closest project to the heart.
Joachim: A Producer with Rigorous Standards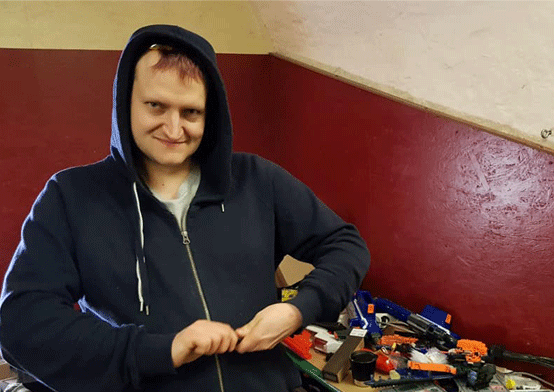 Joachim at his workshop, working on a 3d print blaster project.
Joachim is an engineer and toy designer, especially weaponry toys. He usually uses Creator 3 to design prototypes. What he is concerned about the most in printing, is accuracy and precision. Creator 3 is his first choice in doing these jobs. Also, he gave his Creator 3 a nickname: Flattenforge.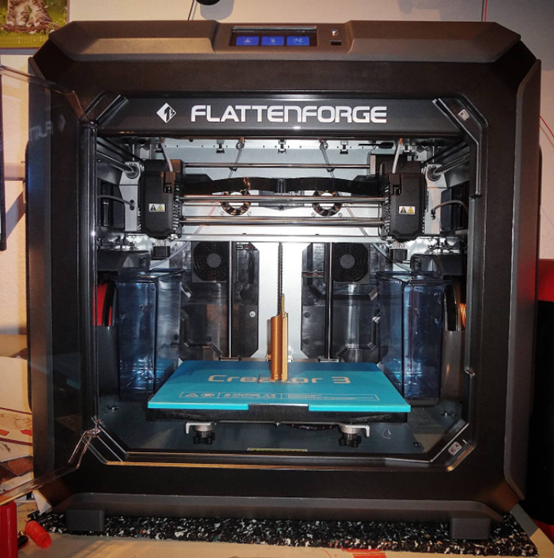 For Joachim, he is always strict with the logic and data. He told us: 'To be honest, I realize myself an engineer more than an artist lol. I really appreciate the beauty of structure and force.' He still remembers a part of the first ASA project: it could be folded time and again at the same place and it just would not break.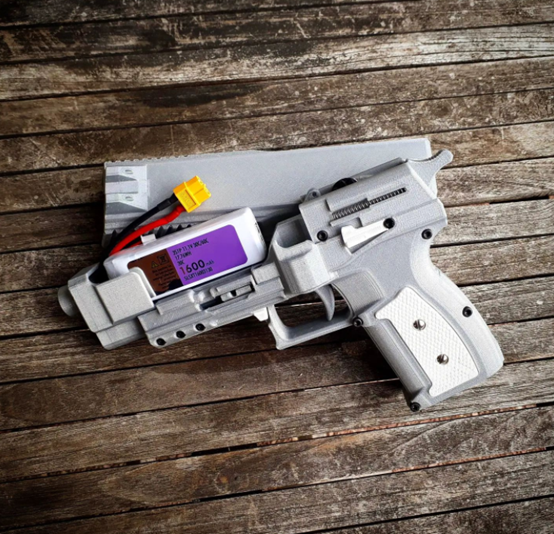 The Creator 3 can print two models that just fit the Creator Pro 2 at the same time. The efficiency is amazing. Especially in Joachim's work, when designing parts, he often designs them in a way that they are mirrored halves of each other, so he can print the same quality in half of the time. The picture below shows how Joachim apply the duplicate mode to accelerate production.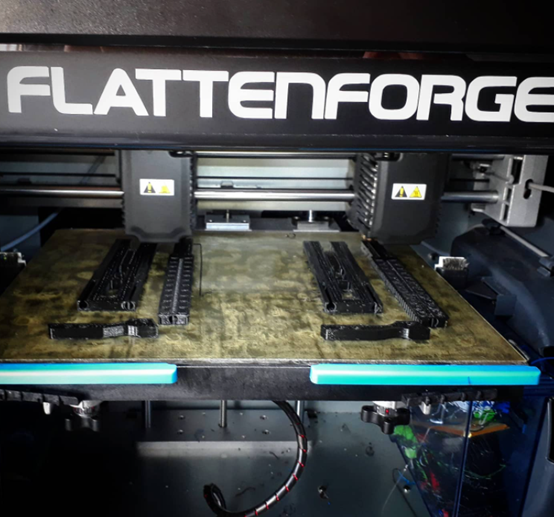 Different from Annie's 3D printing project, Joachim focuses on the models' physical data rather than the life decoration. As multiple producing needed, he makes Creator 3 more fileable: equips it with a kit with different nozzles that can be switched easily. As long-term users, Joachim always treats each printing seriously. Here he shares several tips with Flashforge and other users:
'Totally understand your model is the top significance. Carefully observe the first layer, most print failures start here. Pat attention to the distance between nozzle and build plate to make sure the proper adhesion without squishing too much filament. In more challenging model printing, watching out the specific patterns is necessary.'

In the End

Despite the two stories we share today, Creator 3 has more applications in education, customized automobile, and medical treatment. In the future, Flashforge will continuously share those industrial stories and cases with all the Flashforge users. The discovery of more 3D printing possibilities and realizing them on the practical application is Flashforge's first aspiration.
Technology is not the only consideration; relationships are as well. The project made by Creator 3 is a connection to affection. Better and more enjoyable life is the first goal of all people. Flashforge helps you to be a magician in real life. Such appreciation for Annie and Joachim to share their own stories with us. Our users are not limited to 3D printing addicts, they are closed to Flashforge. Daily, they not only make 3D printing, but they are also mothers, fathers, husbands, and grandparents.
We are holding casual webinars online, if you want to share your stories or life with Flashforge, we are waiting for you at Flashforge official user group on Facebook. 👉 Join our community for more surprises, activities, and discussions.